I am always looking for home decor to create on my own. Don't get me wrong I love doing all types of crafts but I especially love the ones I can display in my home year round. This is exactly why I am excited to teach you how to make wood bead tassel DIY decor.
Not only is this one simple but it incorporates one of my very favorite elements…wood! I have various wood bead garlands, tassels, cutting boards, bowls and more scattered throughout my home and I am excited to add this cute little addition.
Materials
*these ar affiliated links which means I may make a small commission if you purchase through my link. Don't worry, this is no extra charge to you.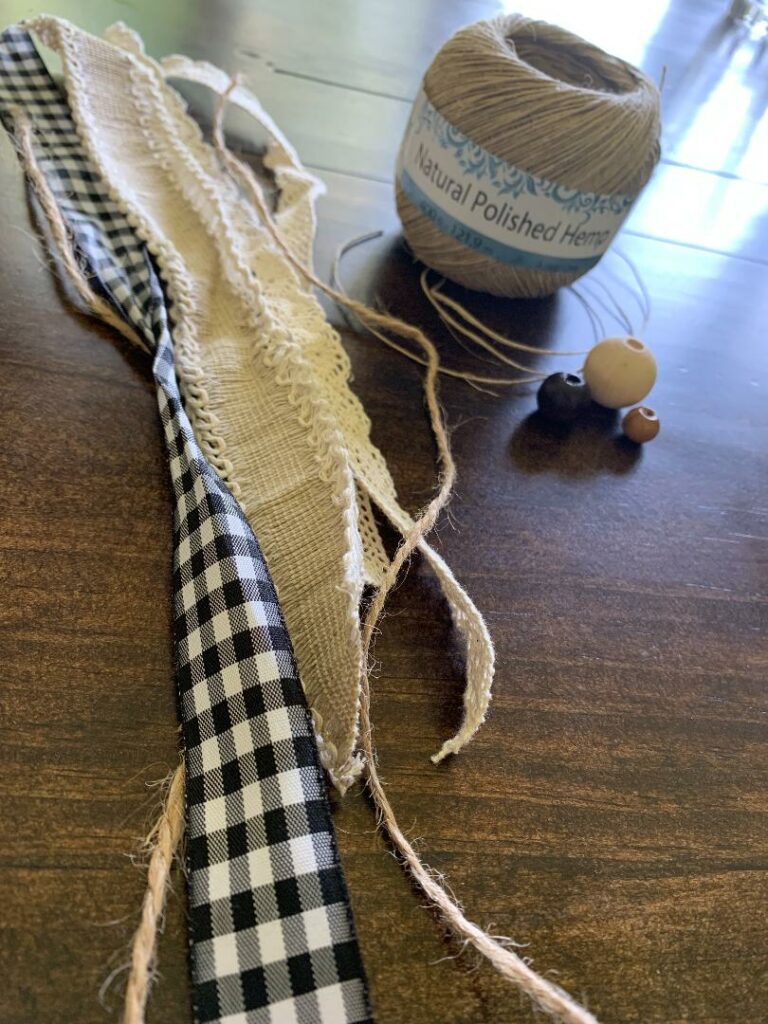 STEP ONE- CUT HEMP TO LENGTH AND TIE
Start with a piece of hemp twine about 18 inches or so, and tie it to make a closed loop. I skipped the measuring, like always, and just went with whatever felt right. The length can easily be modified later.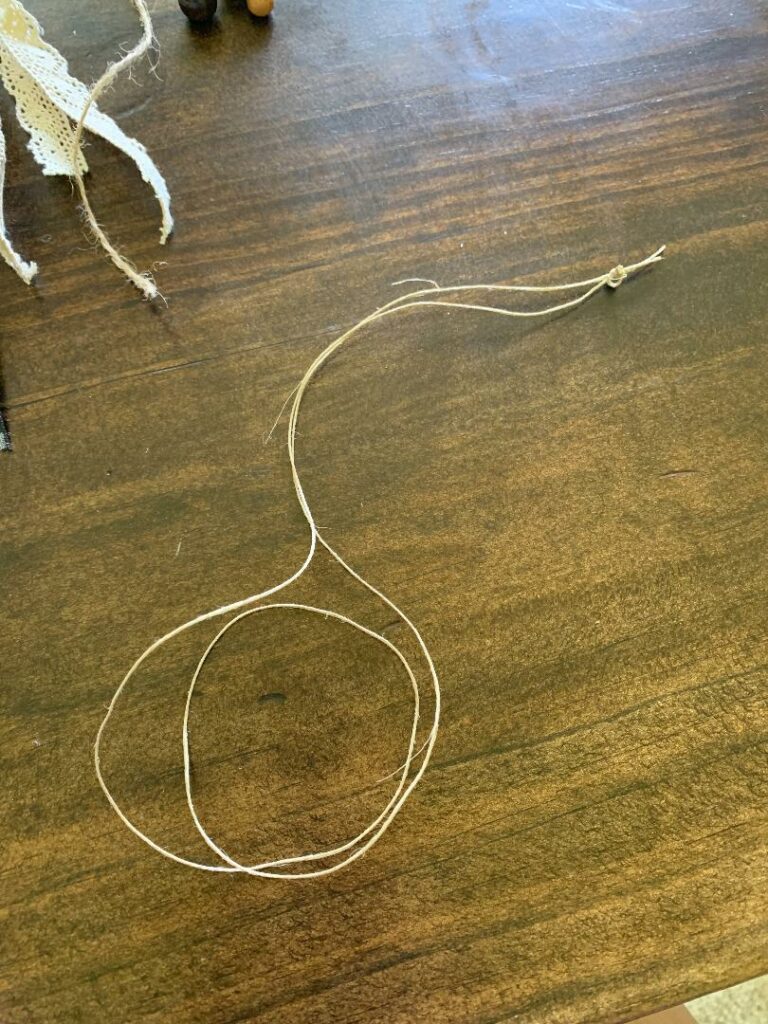 STEP TWO- GATHER RIBBON SCRAPS
Gather various styles of ribbon, cut at random lengths. They don't have to be exactly the same,but I do recommend keeping them somewhat similar.
I was going for a more neutral farmhouse look with these colors but I can see how beautiful this would be in bright and vibrant colors as well.
Lay your collection of ribbon across the portion of your hemp where you created the knot. The hemp should be about center to the ribbon layers.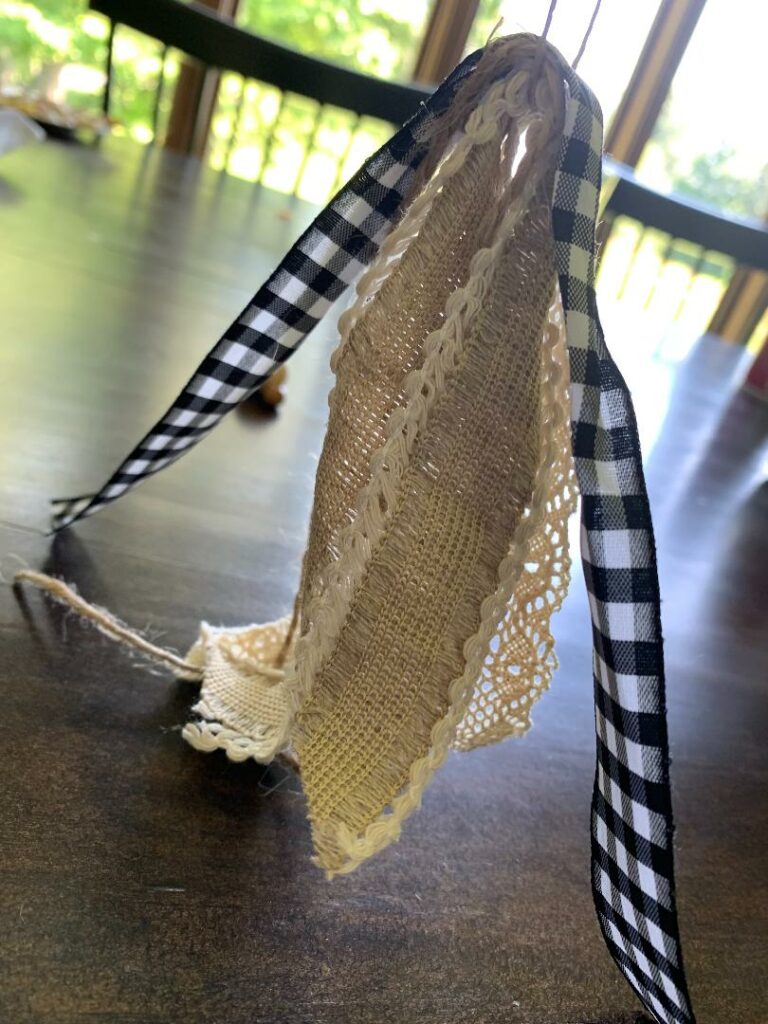 STEP THREE- SECURE RIBBON
Next, gather your ribbon around the hemp and tie using another smaller piece of hemp twine, wrapping it around the ribbon a few times for a gathered look. Tie securely and snip off the excess.
This step is super important for the final look and overall durability of your tassel. Not only will it secure the ribbon but it will also fold everything nice and tight so they are hanging down instead of sticking out.
I realize that may be difficult to understand via text, see the picture below for reference.
Related: Cute and Easy Scrap Ribbon Storage
Related: Scrap Fabric Christmas Ornament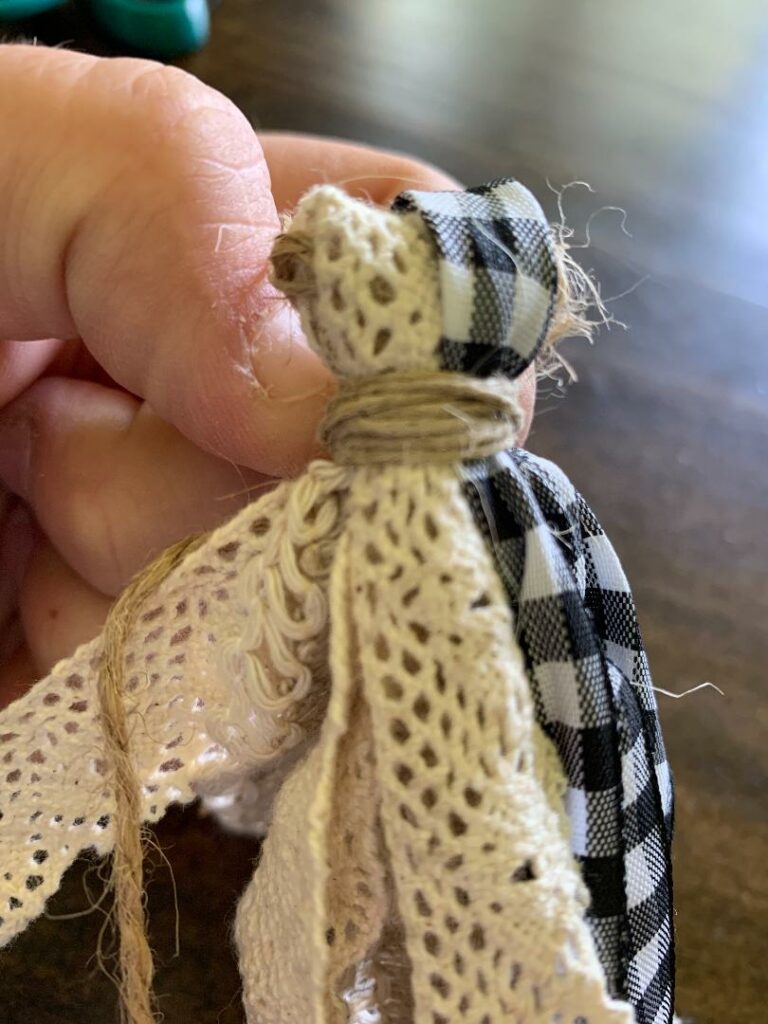 STEP FIVE- ADD THE BEADS
As you can see this DIY Wood Bead Tassel is really tarting to take shape. Adding the beads will give it just a little extra touch. Grab 3 different beads and thread them onto the hemp from largest to smallest.
This is a great time to decide whether you want to continue adding beads the entire length of the hemp or just stop with a little teirded collection like I did.
Either way is fine, just keep the end in mind. You may wish to create a tassle on the opposite end as well. I went with a more "naked" appraoch and only used the three.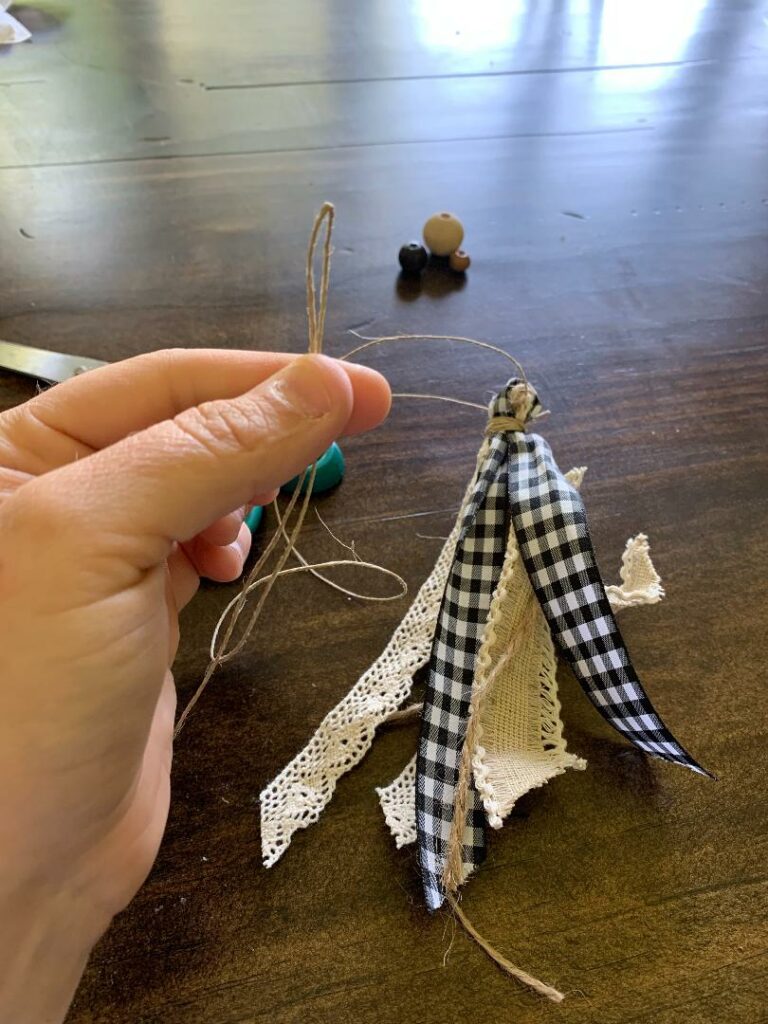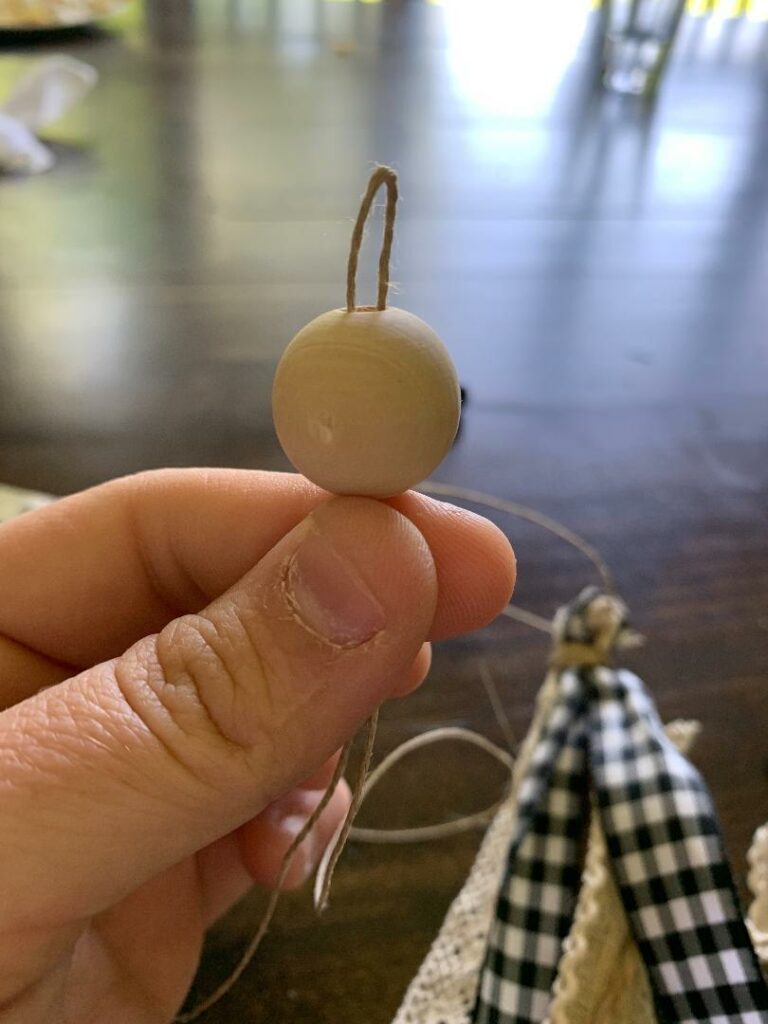 Loop your hemp around your finger to create a knot just above your last bead. This will keep your beads secure.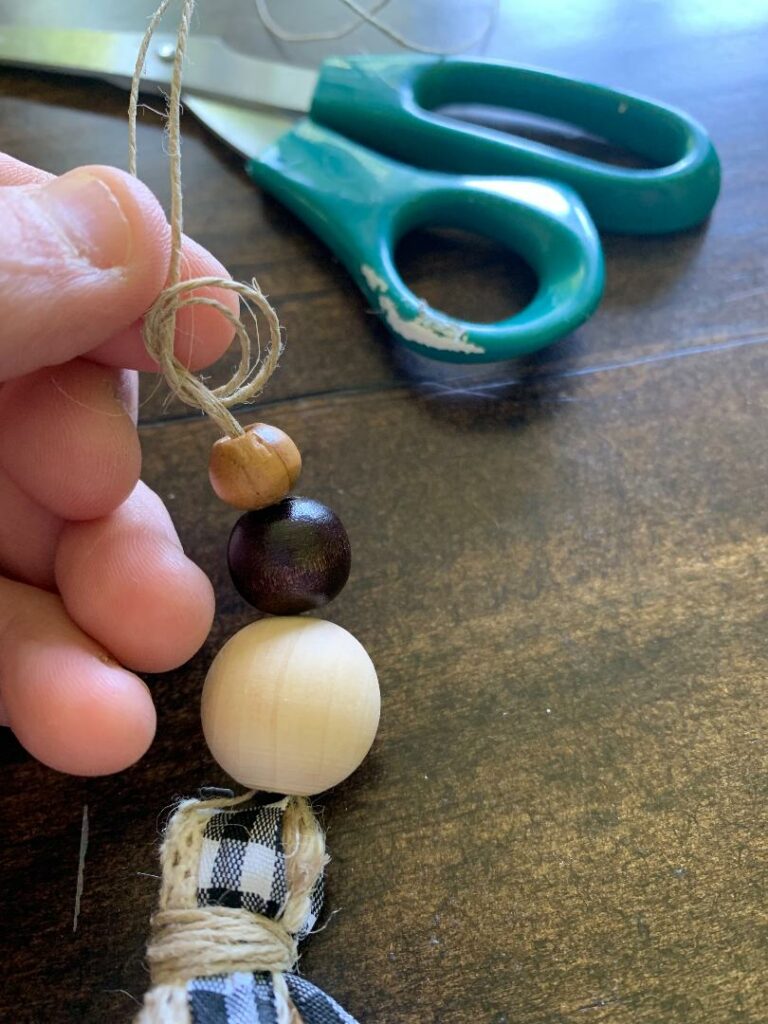 Style It!
That's it! It is seriously that easy! You have completed all the steps for your wood bead tassel DIY and you're ready to put it to good use in your home decor.
Style your new DIY wood bead tassel on door knobs, lamps, vases or even hang from your ceiling fan! It's the perfect embellishment for your existing decor!
I like the simplicity of the exposed hemp twine makes it easy to hang on different decorative pieces in your home.
Want to see more DIY home decor ideas?
Related: Buffalo Check Ribbon Christmas Ornament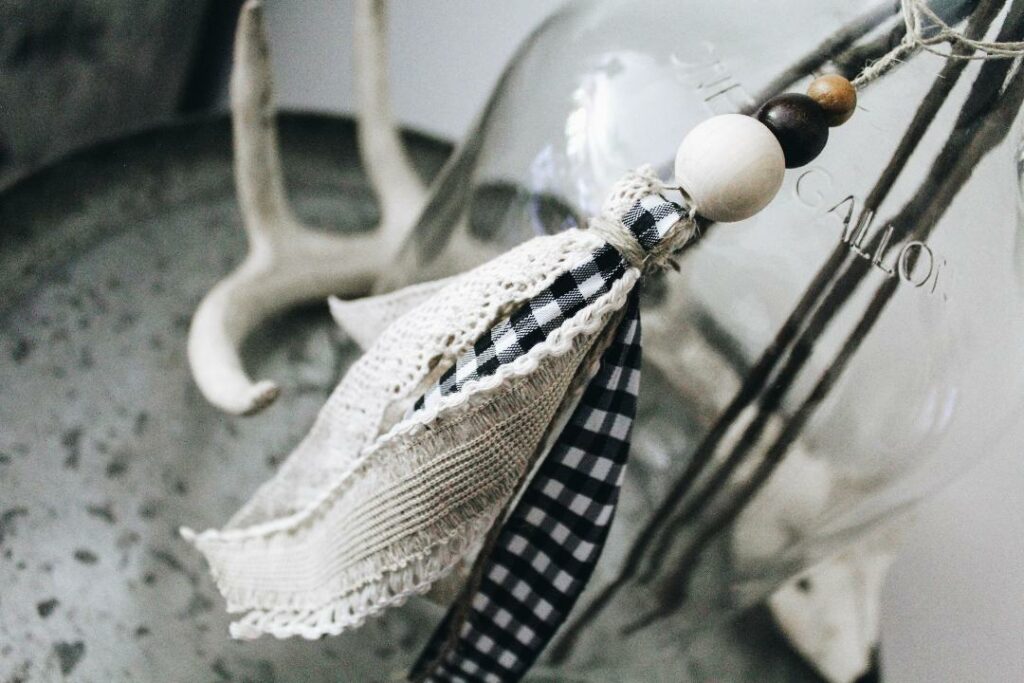 -PIN FOR LATER-