I have been see­ing these adorable lit­tle DIY wood block hous­es every­where! They usu­al­ly have a num­ber on them or a cute lit­tle say­ing and I have sim­ply fell in love!
I decid­ed it was time for me to hop on the saw and come up with a cute and sim­ple design.
I start­ed with a scrap­wood block and cut the edges at a 45 degree angle to make a pitched roof. It was about 9 inch­es tall with­out the addi­tion of the trim pieces which we will get to later.
MAKE YOUR CUTS
(1) 2X6X8" block (or scrap wood with a pitch)
(1) 1x2x5" trim piece
(1) 1x2x5 5/8″ trim piece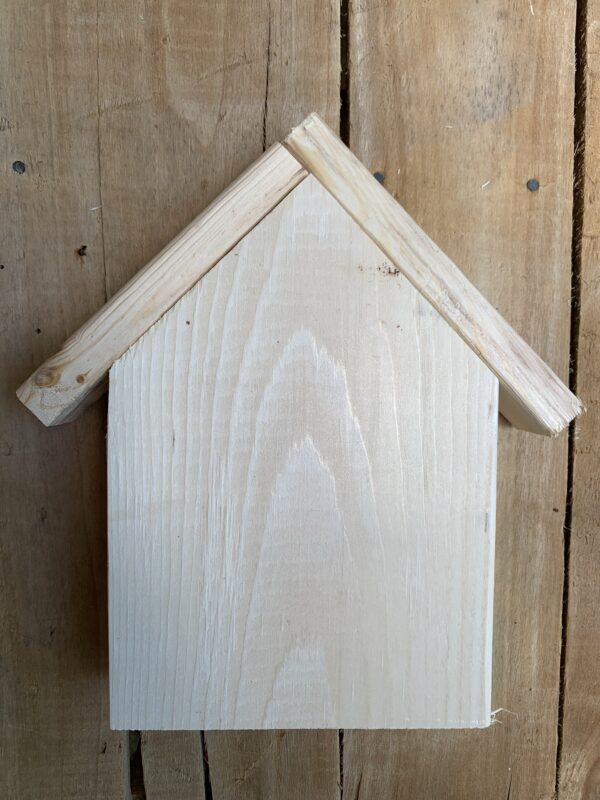 PRINT YOUR DESIGN
To make this project eas­i­er, and because I am no good at hand-let­ter­ing (sigh) I print­ed the words "Home Sweet Home" on reg­u­lar print­er paper with this print­able DOWNLOAD FREE PRINTABLE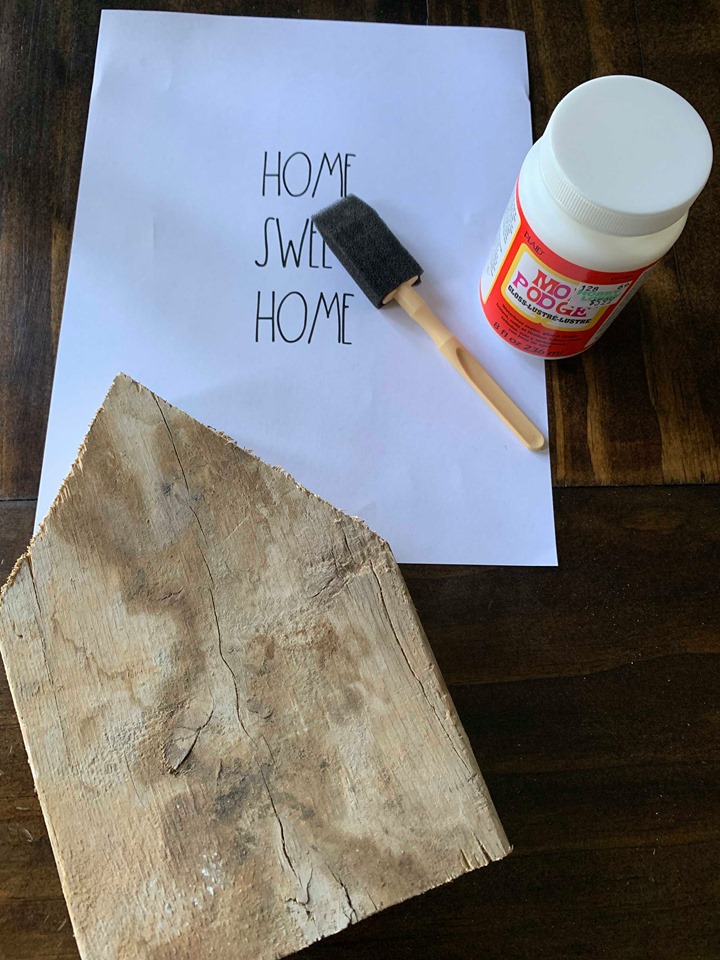 CUT PAPER TO SIZE
Begin by flip­ping your paper 'word-side down, and trac­ing your block. This will help you square up your print­able before cut­ting. Just remem­ber to lay your block face down when trac­ing, this is espe­cial­ly impor­tant with asy­met­ri­cal designs like this one.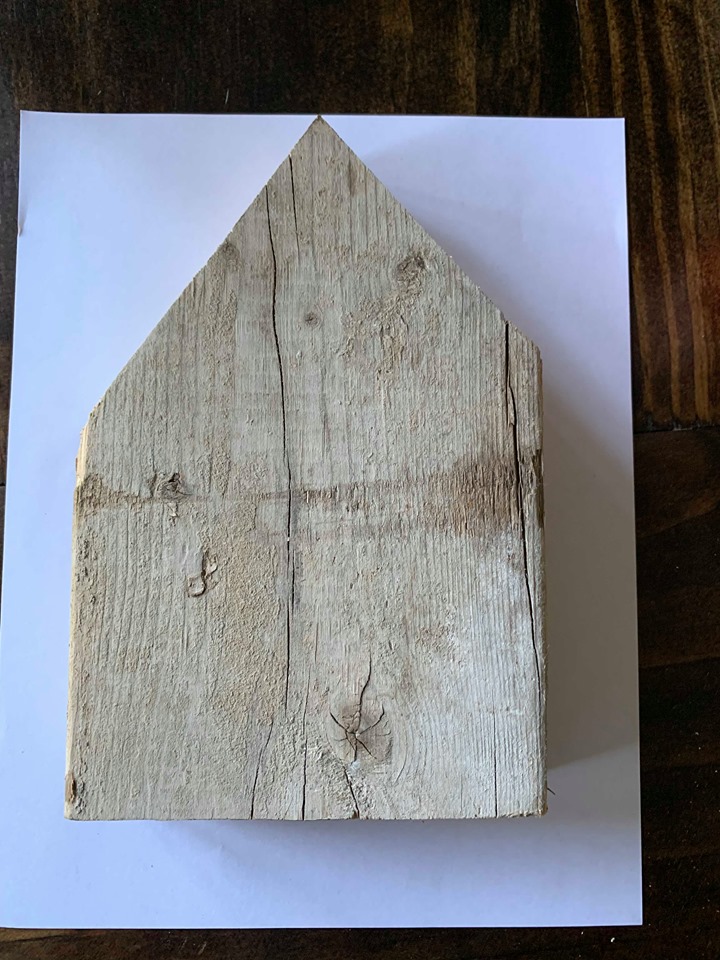 MOD PODGE PAPER TO THE BLOCK
Cov­er the front sur­face of your wood block house with a nice lay­er of mod podge and press your word tem­plate onto the mod podge, smooth­ing from the cen­ter toward the edges.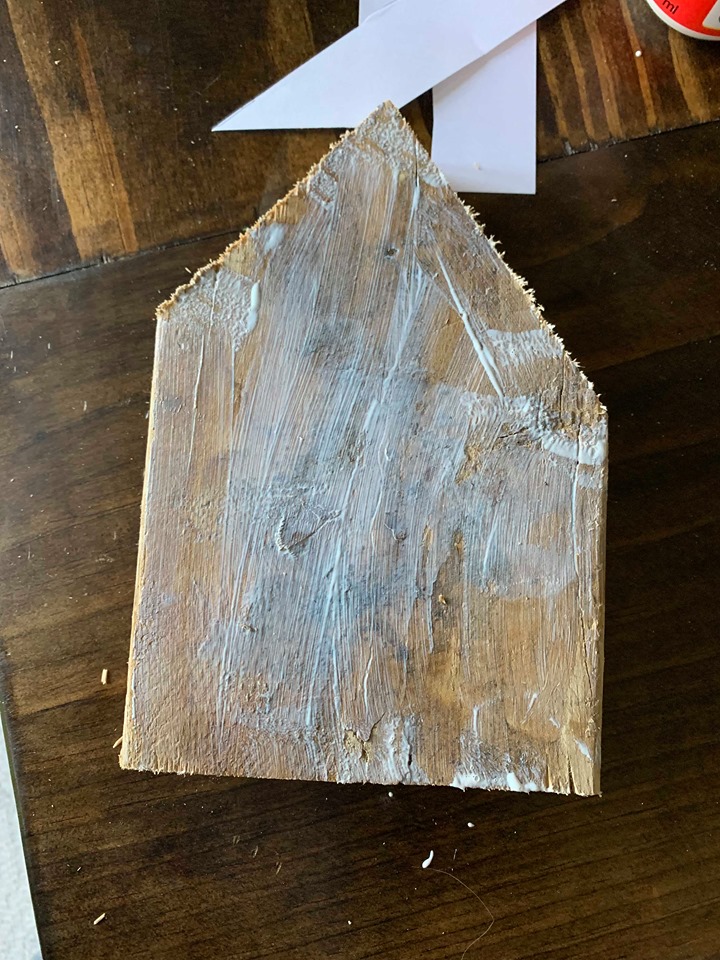 Apply anoth­er coat of mod podge to the sur­face of the paper and allow to dry for 30 min­utes or until the paper feels firm and dry to the touch. If it feels tacky and is show­ing air pock­ets it is too ear­ly to sand.
Using a heat gun can speed up the dry­ing process as well.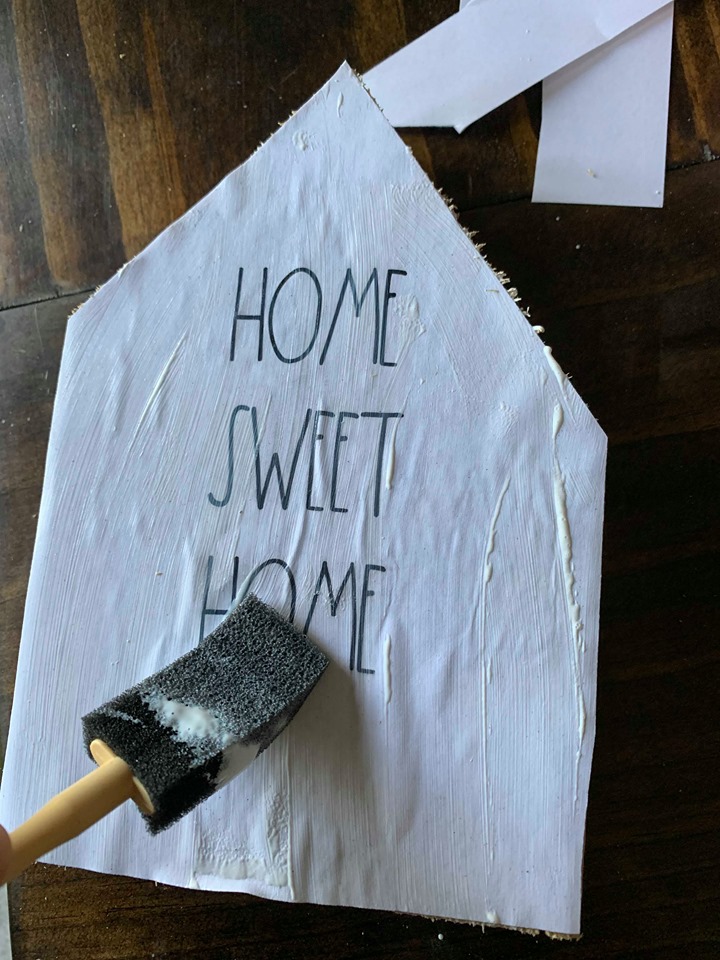 DISTRESS USING SANDPAPER
After allow­ing the mod podge to dry com­plete­ly, which took about 2 hours, I grabbed my sand paper and start­ed scrap­ing away the paper on the edges and the sur­face to start the dis­tress­ing. This step is my favorite part of this DIY wood block house project because it is when real­ly stait rts to gain char­ac­ter! The amaz­ing part is, once you begin dis­tress­ing you can't even tell that its paper! It looks VERY sim­i­lar to chip­py paint, which if you know me at all, is my favorite look of all time!
WHERE CAN I BUY WOOD? CLICK HERE TO PURCHASE A WOOD BLOCK HOUSE KIT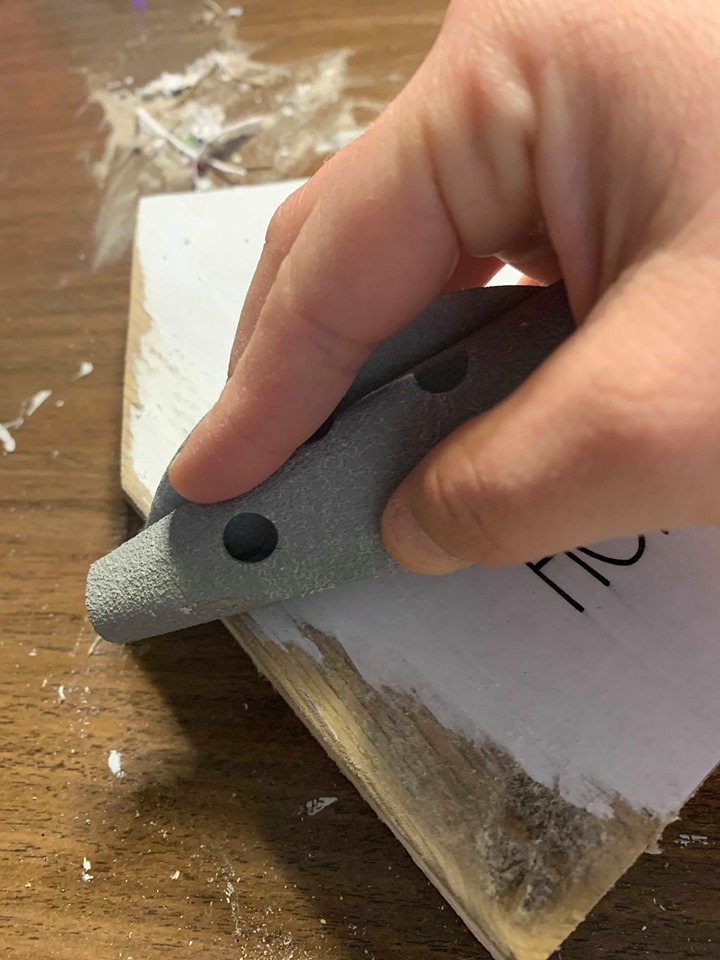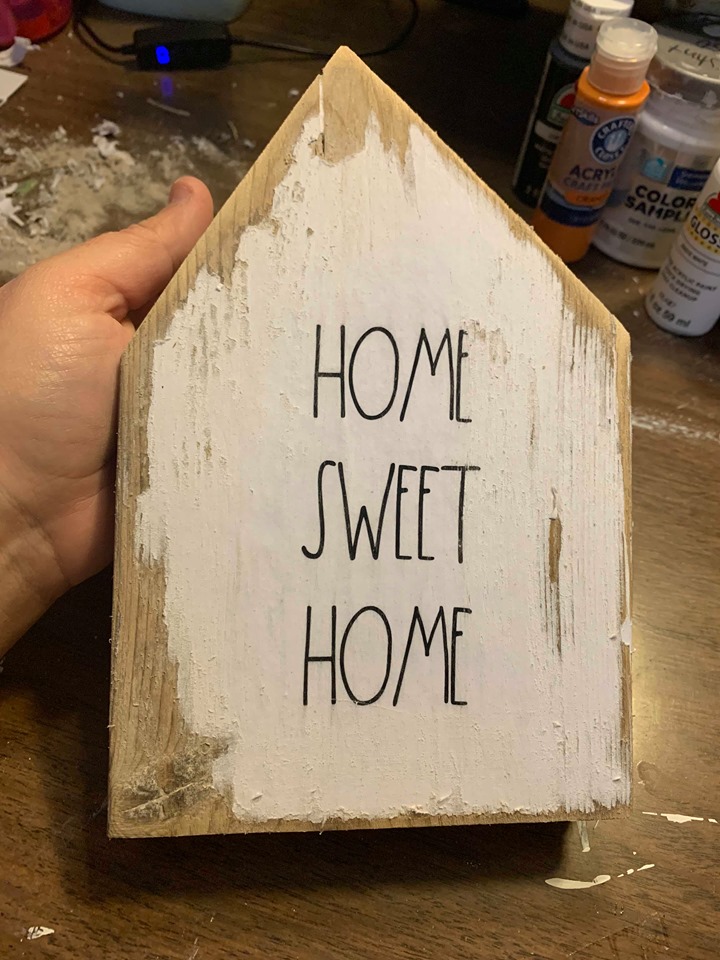 STAIN AND ATTACH ROOF
This next step is com­plete­ly option­al. I had some pieces of scrap­wood from a pre­vi­ous project that hap­pened to make the per­fect roof. I am think­ing paint sticks or wood schims may be a good alter­na­tives if you don't have a trim pieces read­i­ly available.
These trim pieces were cut at 5, 5 5/8″ in length and hot glued to the top of your block house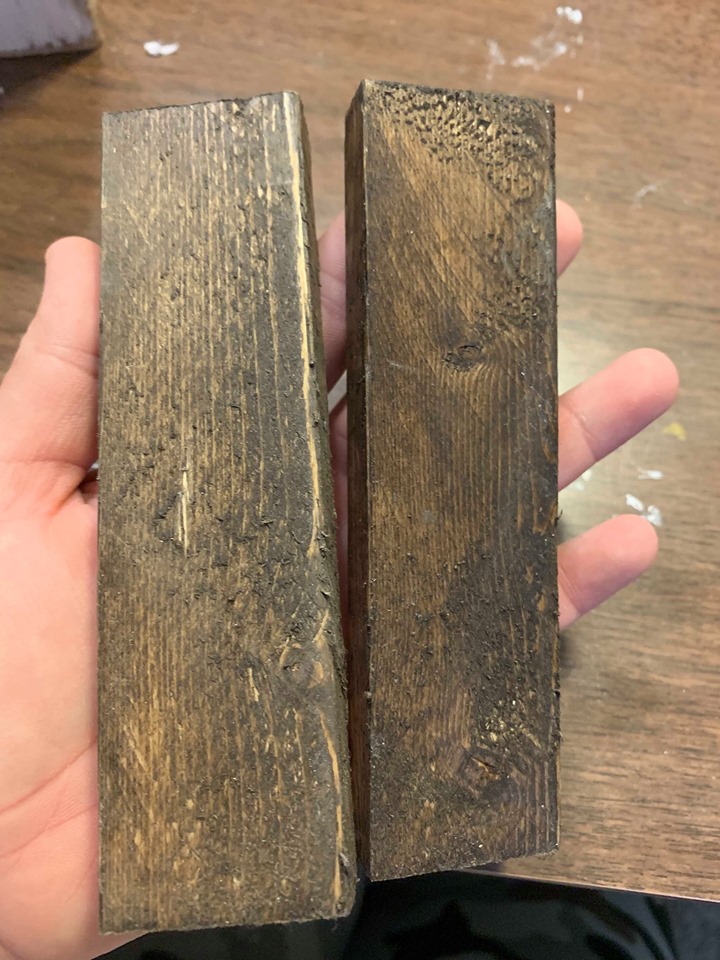 ADORN WITH A MINI WREATH
I chose to adorn mine with a MINI MAGNOLIA WREATH (click here for tuto­r­i­al) I think it added the per­fect lit­tle touch of rus­tic farm­house charm to this piece.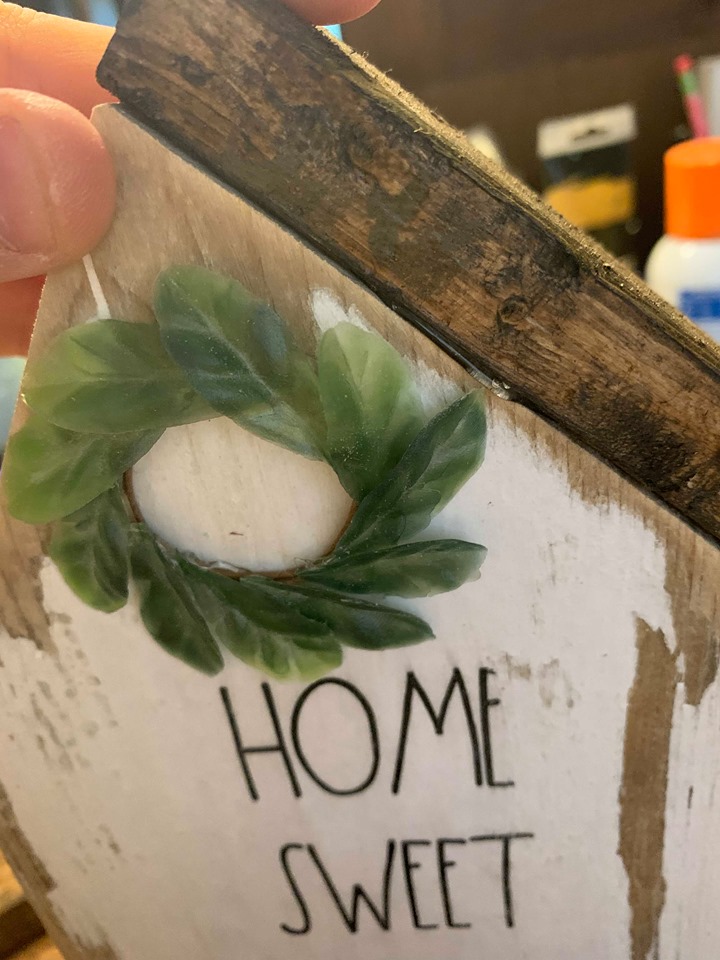 I sim­ply adore how this lit­tle DIY wood block house turned out! It's super sim­ple to make, can eas­i­ly be changed up based on the occa­sion and the best part is it required no paint or vinyl! And that lit­tle wreath y'all! I just can't.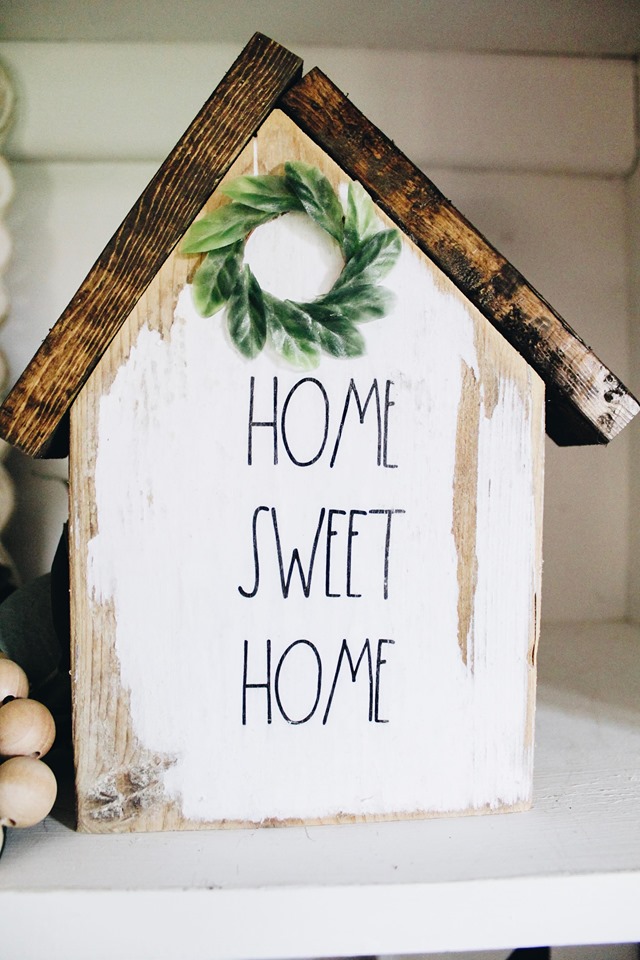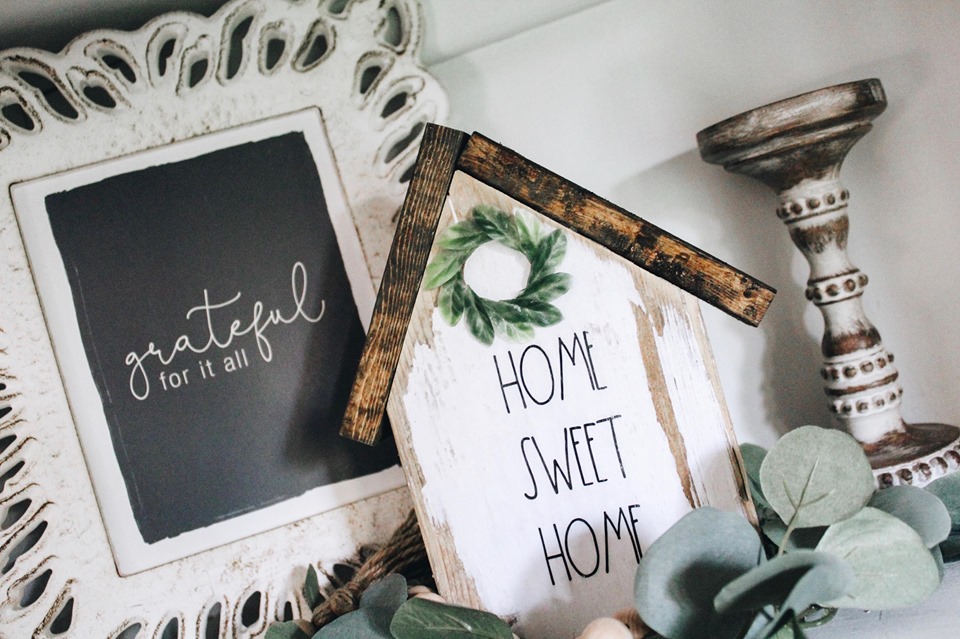 -PIN FOR LATER -