I recent­ly decid­ed to cre­ate an easy Hal­loween place set­ting using a few crafty things I had around the house. After you see how ways it is to cre­ate this lit­tle spooky set­ting you will want to go scav­eng­ing your own stash…seriously! The best part, this entire set­ting took less that 5 min­utes to curate! So whether you're the last minute host or just want to flex those DIY mus­cles this one is for you!
Supplies
Twigs from the yard
raf­fia
Spooky net­ting
brown tags
stamps
I didn't actu­al­ly pho­to­graph the step-by-step process of this look but I did do a short video tuto­r­i­al that you can view below (Be sure to Sub­scribe to my new YouTube Chan­nel)
I start­ed with the mini witch­es broom. I fold­ed the raf­fia few times for a fuller look and secured with a longer piece of raf­fia. Feel free to secure the raf­fia with hot glue but I found that it real­ly was­n't necessary.
Next, I stamped the brown tags, using a witchy saying.
And last­ly, I cut strips of the creepy Hal­loween net­ting I found at the dol­lar tree and used those at my "nap­kin rings"
It real­ly was that easy, y'all. For this par­tic­u­lar set­ting I styled ith with an old thrift­ed place and a buf­fa­lo check nap­kin I already had on hand. I chal­lenge you to shop your own home to com­plete the look. Grab sticks from the yard and dis­play in an old vase, use mis­matched plates and wine glass­es to add a touch of unex­pect­ed spookiness.
If you're not quite ready for this Hal­loween place set­ting check out this beau­ti­ful fall table using the same shop your home method HERE
OR
Keep scrolling to see the video tutorial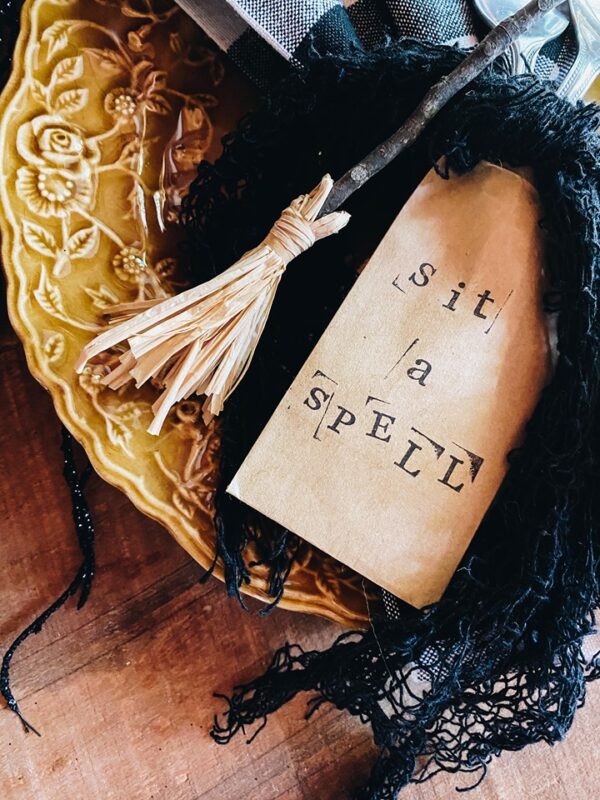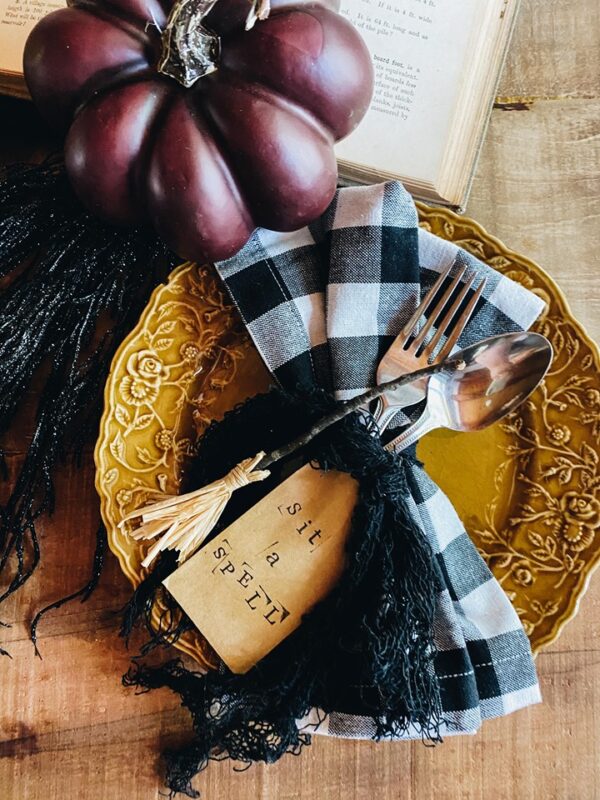 I seri­ous­ly love Hal­loween! From the crisp air to the hayrides and all the fun spook­i­ness that comes with it. Are you a Hal­loween fan like me?