I made this recipe for the first time this morn­ing. Sun­day's are typ­i­cal­ly crazy in our house. Rush­ing for show­ers and get­ting ready for church. Due to the cur­rent quar­an­tine we watched church from home and kept our social dis­tance but y'all, can I just say, no amount of social dis­tance should keep you from shar­ing this amaz­ing melt in your mouth recipe with your fam­i­ly and friends.
Speak­ing of fam­i­ly, I am hap­py to have had my great grand­moth­ers loaf pans hand­ed down to me. Every­time I use them I can't help but won­der what all she made with these pans. All the time and love that was poured into them. and oh my I bet it was delicious!
It is a dream of mine to cre­ate a col­lec­tion of hand writ­ten recipes to keep in a binder and hand down to my chil­dren one day. It is for that very rea­son that I cre­at­ed a FREE RECIPE CARD PRINTABLE for you to pre­serve your recipes with.
There real­ly is noth­ing more spe­cial than hand­ing down a per­son­al­ized, hand writ­ten, tried and true recipe for gen­er­a­tions to enjoy!
Amish Cinnamon Swirl Bread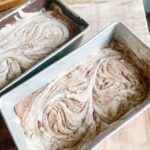 A melt in your mouth sweet bread that pairs well with a snug­gly blan­ket and cup of coffee
BATTER
1 CUP BUTTER (SOFTENED)
2 CUPS WHITE SUGAR
2 EGGS (I PREFER FARM FRESH)
2 CUPS BUTTERMILK (IF YOU DONT HAVE BUTTERMILK YOU CAN MIX 1TBSP VINEGAR PER CUP OF MILK, 1:1)
4 CUPS FLOUR (SIFTED)
2 TSP BAKING SODA
CINNAMON-SUGAR
2/3 CUP WHITE SUGAR
2 TSP CINNAMON
Cream but­ter, sug­ar and eggs together

Add milk, flour and bak­ing soda and place 1/2 bat­ter into 2 greased loaf pans

In a sep­a­rate bowl, mix cin­na­mon and sug­ar with a fork

Sprin­kle 3/4 sug­ar mix­ture onto bat­ter in the pans

Top off each pan with remain­ing bat­ter and sprin­kle with remain­ing cinnamon-sugar

Swirl with a knife

Bake at 350° for 45–55 min­utes or until tooth­pick test is clean
Relat­ed: Sum­mer Pineap­ple Pie
PIN THIS RECIPE