There is some­thing incred­i­bly charm­ing about this home made wood block Christ­mas vil­lage. See­ing how some­thing basic can be trans­formed into a beau­ti­ful state­ment piece of decor is so rewarding.
This DIY pairs per­fect­ly with the twin­kle of Christ­mas lights and a sim­ple gar­land. I hope to inspire you with sim­ple, rus­tic charm this wood block Christ­mas vil­lage will add to your home, bet­ter yet, make one for yourself.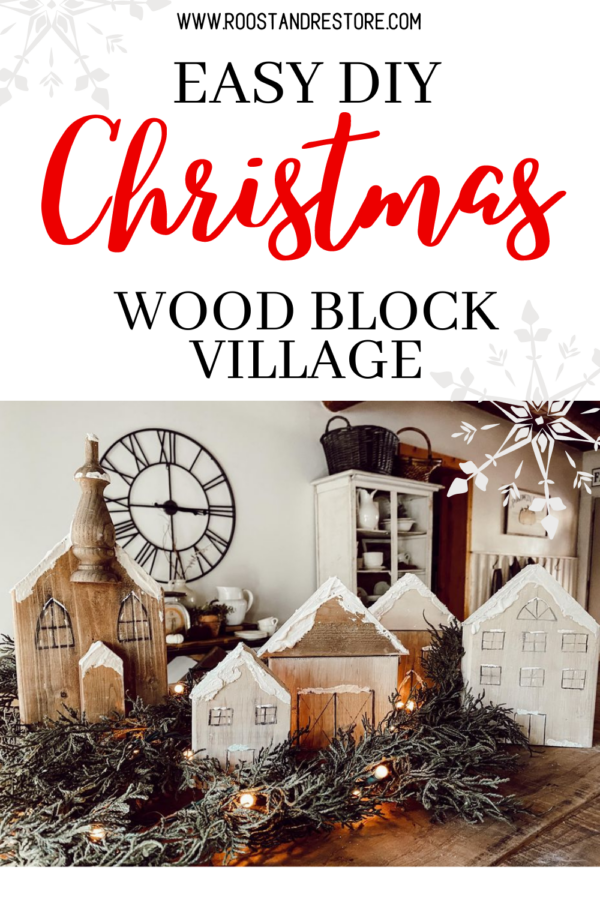 Recreate this look with these supplies
Waver­ly Chalk Paint, Plaster
Plas­ter of Paris
Black paint Pen
Sand Paper
Hot Glue
Paint brush
If you're a do-er like me, and would enjoy learn­ing to make your own, just know that the cuts are basic 45 degree angles made with 2x6 and 2x4 scraps at var­i­ous heights. These are the wood blocks I start­ed with.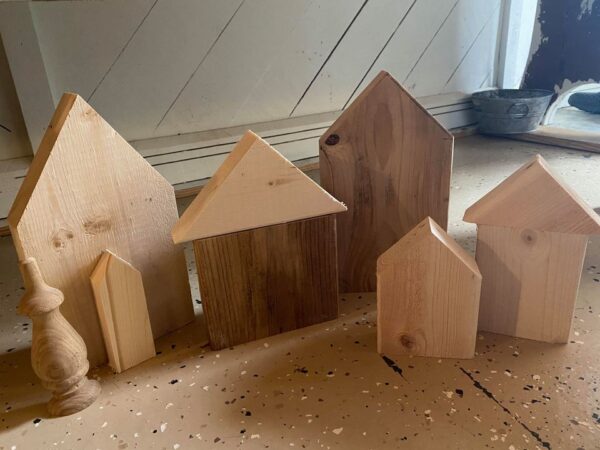 I began by stain­ing and paint­ing the pieces using cof­fee stain and a mix­ture of watered down chalk paint. Water­ing down white paint will allow for the wood grain to show through with a beau­ti­ful sub­tle­ty that was per­fect for this rus­tic look.
Although I am bring­ing back the reds and greens in my decor this year, I still want the over­all vibe to be nat­ur­al and a bit prim­i­tive. I can't help but to be drawn to the prim­i­tive, sim­ple look of Christ­mas. The orange slices, mixed nat­ur­al green­ery, cin­na­mon sticks and pop­corn garland…it all reminds me of the child­hood Christ­mas cel­e­bra­tions Lau­ra Ingalls Wilder described in her books.
This wood block vil­lage cer­tain­ly feeds into that feel­ing. Sim­ple and resourceful.
Aside from me lov­ing the sim­ple, rus­tic look, I am also lim­it­ed in my paint­ing skills. I don't want to pre­tend that I can. Instead, I like to embrace the things I CAN cre­ate and hope­ful­ly inspire you to do the same! Sim­ple paint pen lines and faux snow real­ly trans­formed these blocks into a charm­ing lit­tle village.
How to make fake snow?
For this project, I used a 2:1 ratio of plas­ter of paris and water. I made the mix­ture in small batch­es on my paint tray and sim­ply added water or plas­ter to get a tooth­paste like con­sis­ten­cy. The thick con­sis­ten­cy allows for workability.
I applied the mix­ture to the areas of the wood block build­ings where snow would nat­u­ral­ly settle