I think if I put all of my favorite things in a bag and shake it up, I would pull out this chip­py wood pump­kin DIY. It is lit­er­al­ly a com­bi­na­tion of all of my VERY FAVORITE things! And the best part? It's the fea­tured project in the month­ly DIY Decor Box for August! Each and every box is filled with a com­bi­na­tion of beau­ti­ful DIY's and coor­di­nat­ed decor for your home! Lit­er­al­ly the only thing left to do is enjoy the curat­ed dec­o­rat­ing experience!
Does that sound like a fun time?
Well, let me just sweet­en it up even more for ya. In addi­tion to receiv­ing the wood need­ed to make this chip­py wood pump­kin DIY, I also craft it LIVE in a pri­vate Face­book mem­ber­ship! You get the project, pri­vate assem­bly inspi­ra­tion and instruc­tions along with a coor­di­nat­ed 8x10 frame­able pic­ture, and oth­er fun items to com­plete your decor! All while becom­ing a part of an online sis­ter­hood of oth­er cre­ative women!
Come see what we made togeth­er from our August kit!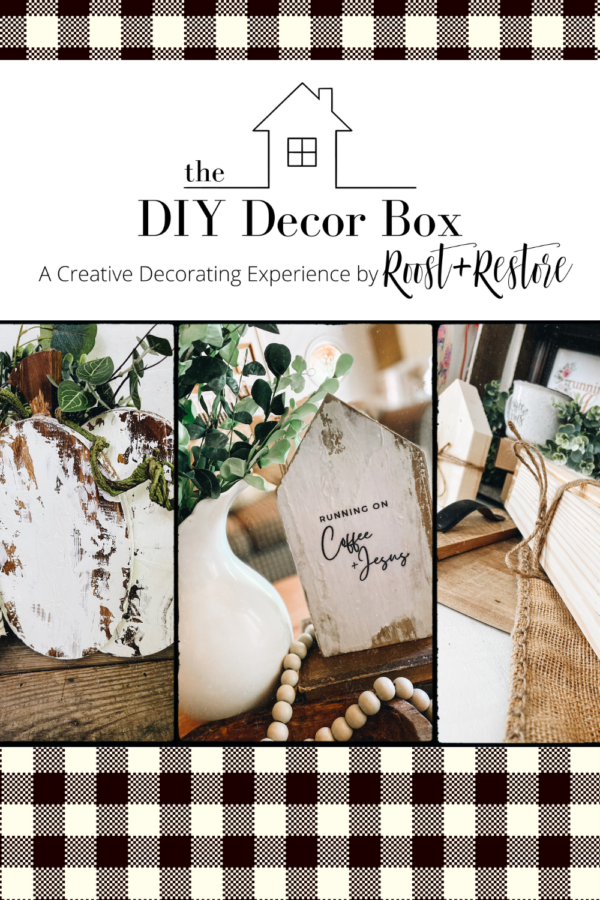 What the August DIY Box Included:
3 hand cut oval-like wood chunks (I per­son­al­ly think they look like jel­ly beans) We decid­ed on this shape to give our mem­bers the free­dom to cre­ate their own whim­sy and irreg­u­lar pumpkins!
1 hand cut stem
1 chunky wood word cutout
1 fall print
How to make a Chippy Wood Pumpkin
The process began with stain­ing. I used a baby wipe to apply one of my favorite antique glazes by waver­ly. Tru­ly any stain dur­ing this step is fine.
Once the stain was dry I but­tered white paint using a large pop­si­cle stick. It's lit­er­al­ly as sim­ple as load­ing your stick and scrap­ing the paint across the sur­face. This but­ter­ing is absolute­ly addict­ing! It's so fun and incred­i­bly sim­ple to cre­ate that authen­tic chip­py look we all love!
I repeat­ed the but­ter­ing for with piece of wood except for the stem, which I left stained.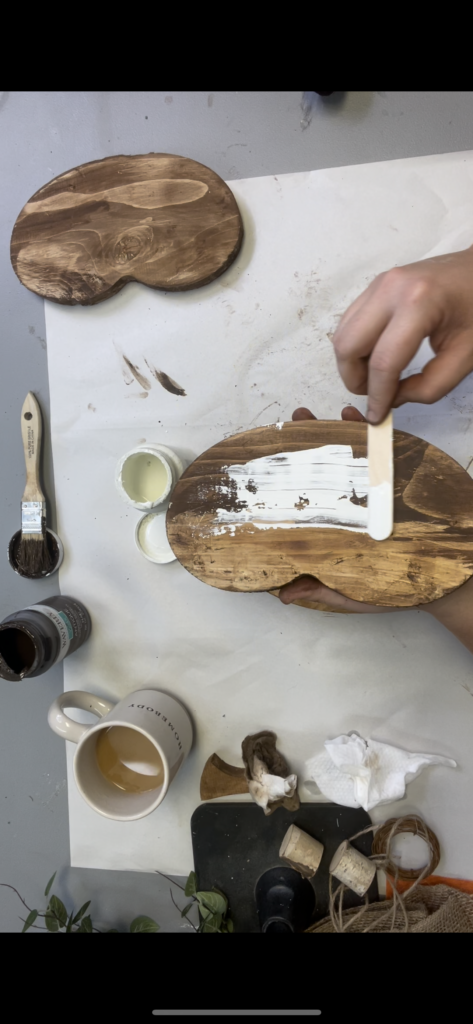 I sped up the dry­ing process of the paint with my heat gun. I've noticed that the rapid, intense heat from the gun caus­es the areas of thick­er paint to crack­le. Per­son­al­ly, I love the added char­ac­ter and authen­tic­i­ty it adds to the chip­py paint! You can avoid the crack­ing by let­ting the paint dry slow­ly on its own.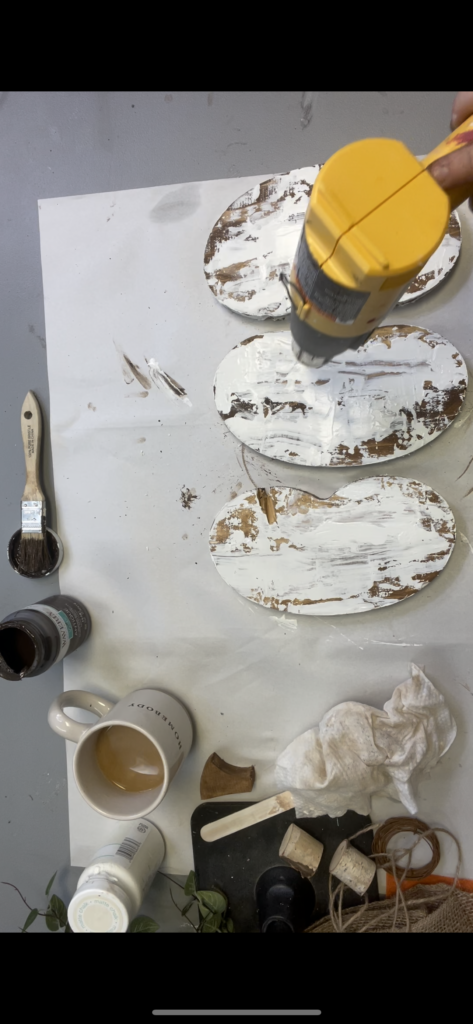 Next came assembly,and yall let me just tell ya, this is about as sim­ple as it gets. I pressed 2 of the wood pieces togeth­er with the curves fac­ing inward, to make the base. Then, using a com­bi­na­tion of E6000 and hot glue , attached the third piece on top, in the center.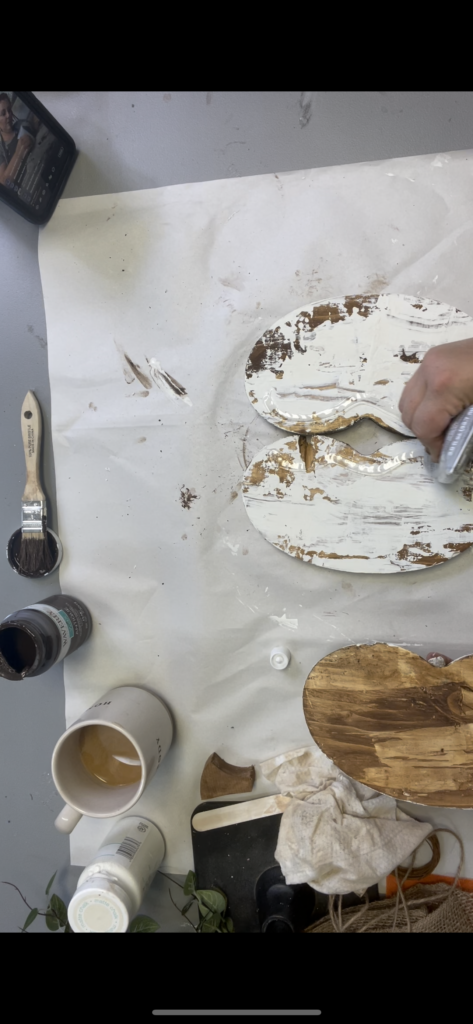 Press into the wood long enough to give the hot glue time to dry. The hot glue will help the pieces of your chip­py wood pump­kin stick togeth­er in the short term while the E6000 will be impor­tant for dura­bil­i­ty in the long run.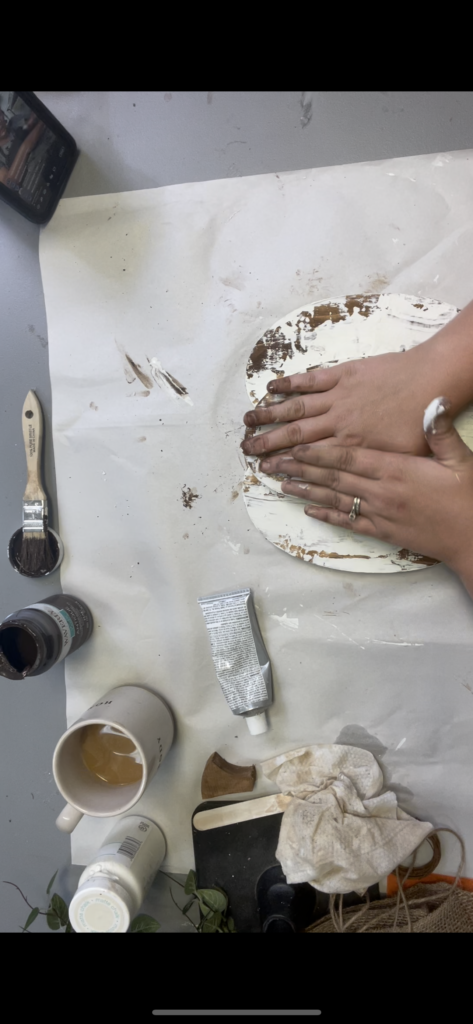 The last lit­tle bit of this project is left up to the cre­ator and their imag­i­na­tion! Attach the stem the same way as the oth­er pieces were assem­bled and embell­ish to suite your own per­son­al taste.
I com­plet­ed this look with a flo­ral stem in our shoppe that I dis­as­sem­bled and twist­ed. This can be done with sim­i­lar flo­rals for the same effect. You can shop our flo­rals at Roost and Restore Home.