If you love DIY Decor, then you'll love this month­ly decor sub­scrip­tion from Roost+Restore!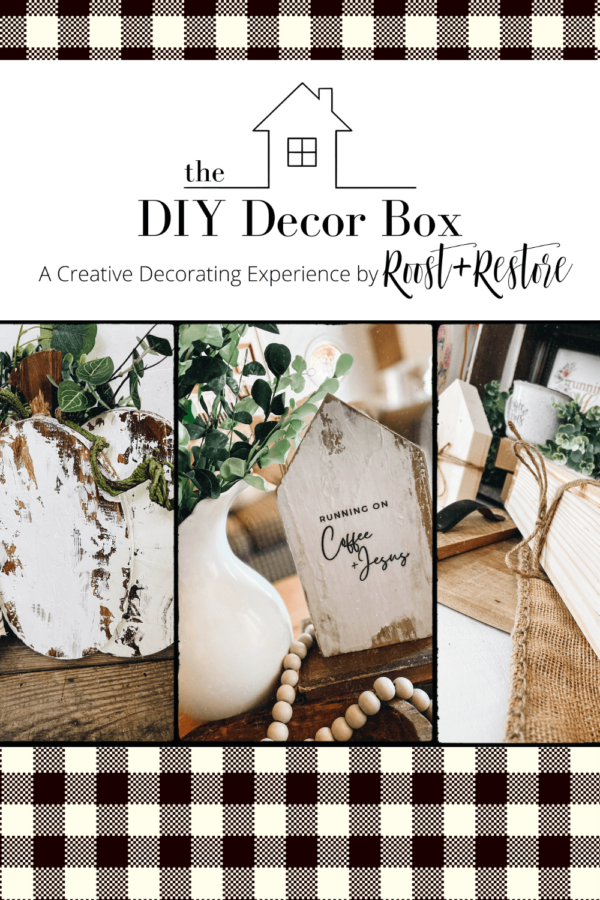 If you have been around for awhile, you'll know that I have a month­ly decor sub­scrip­tion box where I ship out a box full of beau­ti­ful wood DIY decor projects.
I like to think of it as a sig­na­ture item at Roost+Restore and, as we con­tin­ue to set­tle into our brick and mor­tar loca­tion in May­field, Ken­tucky, we've been work­ing on rebrand­ing so we can con­tin­ue to bring you beau­ti­ful home goods under the Roost+Restore name with­out confusion.
First, maybe you'll notice two sub­tle changes:
The Home­Goods mar­ket is now Roost+Restore Home.
The DIY Decor Box from Roost+Restore was for­mer­ly known as the Wood Project Box.
Two "small" changes, right? ?
Rest assured that the same qual­i­ty you have come to expe­ri­ence from us is stay­ing, and as we build out our new retail space, we will have more fun things to announce. Make sure you're fol­low­ing Roost+Restore Home on Face­book and Insta­gram if you aren't already!
So, what's so great about the month­ly decor subscription?
Well, I'm glad you asked!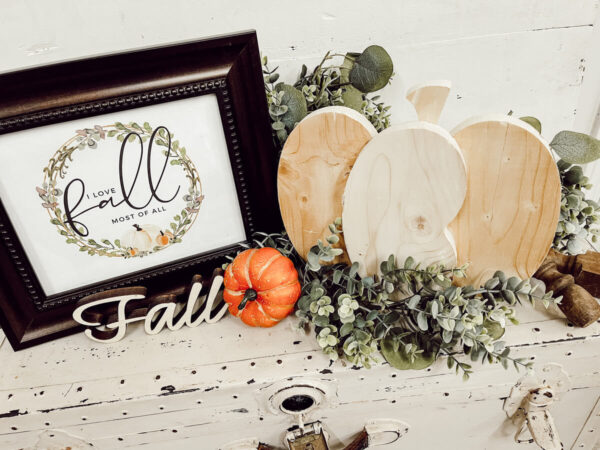 On top of receiv­ing a cre­ative dec­o­rat­ing expe­ri­ence that's cohe­sive and sea­son­al, you'll gain access to my pri­vate FB group and month­ly Zoom "show & tell" event where we hang­out and show off that mon­th's projects, but all mem­ber's receive a spe­cial dis­count for every pur­chase at Roost and Restore Home.
But what's actu­al­ly mailed to me each month?
Well, the August box features:
1 Chunky Reclaimed Wood Pump­kin project
1 free stand­ing unfin­ished wood shelf sitter
8x10 fram­able print
5x7 craft­ing print­able includ­ed in pamphlet
A spe­cial gift
But the fun does­n't just stop there! We have tak­en the steps to pro­vide more DIY Decor mailed to your door with addi­tion­al bun­dle options of the DIY Decor Box.
If you signed up for the Tee bun­dle, you'd receive every­thing in the DIY Decor Box along with a curat­ed, one of a kind, t‑shirt designed by Kaycee.

We are also intro­duc­ing a new option for your box: The Tiered Tray Bun­dle! We are super excit­ed about this new bun­dle which includes your basic lev­el DIY Decor Box, and a coor­di­nat­ing tiered tray kit!
The Ulti­mate Bun­dle includes all of the above, both the tee and tiered tray kit!
DIY Project Example:
Each box will fea­ture an easy DIY project where the main mate­r­i­al is wood. I mean, it's a no brain­er since I love wood! 🙂
For August, I want­ed to pro­vide a bold state­ment piece that would look per­fect on a front porch by work­ing with my wood guy to bring you this gor­geous DIY Chip­py Wood Pump­kin made from reclaimed wood.
I loved mak­ing it and putting it togeth­er. I have a full tuto­r­i­al on the blog where I walk you through how to make the Chip­py Wood Pumpkin.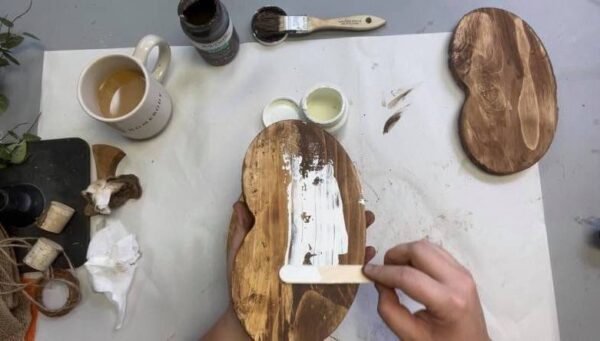 I used my spe­cial "Wood But­ter­ing" paint tech­nique I shared with you dur­ing the Wood Sun­flower Tuto­r­i­al, but what's great about the DIY Decor Box is you can cus­tomize the wood pieces how­ev­er YOU want!
Yes, I'll share my vision of what I think the project should look like with you in our mem­ber's only Face­book group, but I am con­stant­ly in awe of the women who add their own touch or flair to the craft!
Catch a glimpse of what a final ver­sion of the DIY project will look like below, styled with the wood shelf sit­ter of the word 'Fall', along with the 5x7 craftable print sized to fit a frame you can pur­chase from the shoppe.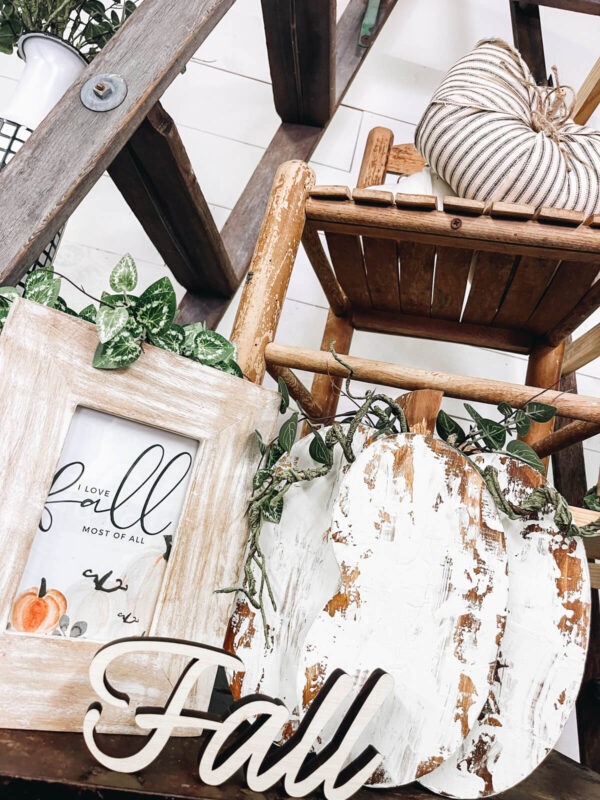 I love that every­thing coor­di­nates togeth­er that you can cre­ate mul­ti­ple dif­fer­ent vignettes. The neu­tral chip­py pump­kin is a great way to sub­tly start adding Fall decor to your home with­out it feel­ing like the Great Pump­kin swung on over. Also, what's not to love about this look?!!
But you want to know what's even better?
The doors are now open to reserve your very own DIY Decor Box deliv­ered to your door!
Head on over to Roost+Restore Home and pick your lev­el of DIY fun. Sign up pri­or to the 5th of the month to receive that mon­th's box.