Mak­ing wood block ornament(s) has to be one of my favorite things to cre­ate this time of year. In fact, mak­ing wood block anyyy­thing is my favorite.
PS.…these wood block ornament(s) make won­der­ful (and bud­get friend­ly) gifts too (wink wink)
If you have a scrap wood pile lay­ing around, go grab a lit­tle piece and make this super cute, rus­tic lit­tle addi­tion for your tree.
No wood? No wor­ries! If you don't have access to wood, we have a scrap wood project solu­tion designed JUST FOR YOU! If you have wood, then you're almost set. See the com­plete list of sup­plies below.
Supplies for Wood Block Ornaments
Wood Block, I'm using approx 4x6" piece but real­ly any size will do
Would you like to see a sped up step by step of a cute wood clock orna­ment? Check out the video tuto­r­i­al below!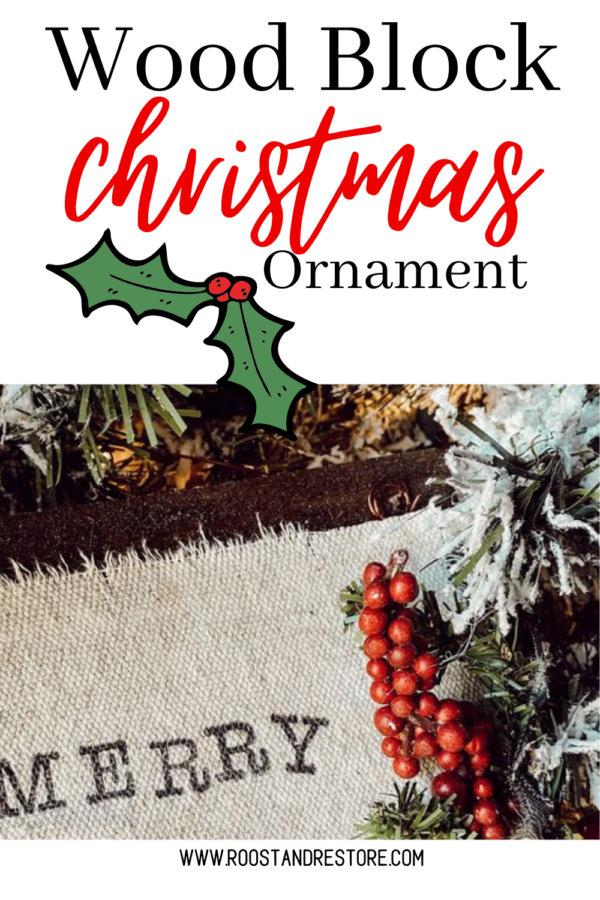 Drill Holes in the Wood

I drilled two small holes at the top using my drill and twist bit. They are large enough for jute twine or in the case, cop­per wire for hanging.

Stain

Stain your wood what­ev­er col­or you desire. I am using Spe­cial Wal­nut by Minwax

Apply Fab­ric

Apply a small piece of fab­ric using mod podge

Stamp

Stamp you favorite Christ­mas verbiage

Embell­ish + Hang

Thread your wire through the back­side of the hole and twist around a pen­cil or dowl rod for a cute curl in the front!
If you like this wood block orna­ment, you will love these oth­er wood block DIY projects for all seasons!