Lis­ten, I know naked trees are trend­ing in farm­house decor right now, but I don't know if I have the phys­i­cal strength NOT to put any­thing on a tree. That is how this cute lit­tle euca­lyp­tus Christ­mas tree came to be!
I mean, when I start­ed styling this space I start­ed with two tiny, naked, trees then I tran­si­tioned to a mini tree with twin­kle lights.…annnnnd the rest is his­to­ry. I had this RUSTIC DIY GARLAND on hand left­over from my fall man­tle and I decid­ed to use that resource to deck anoth­er set of halls.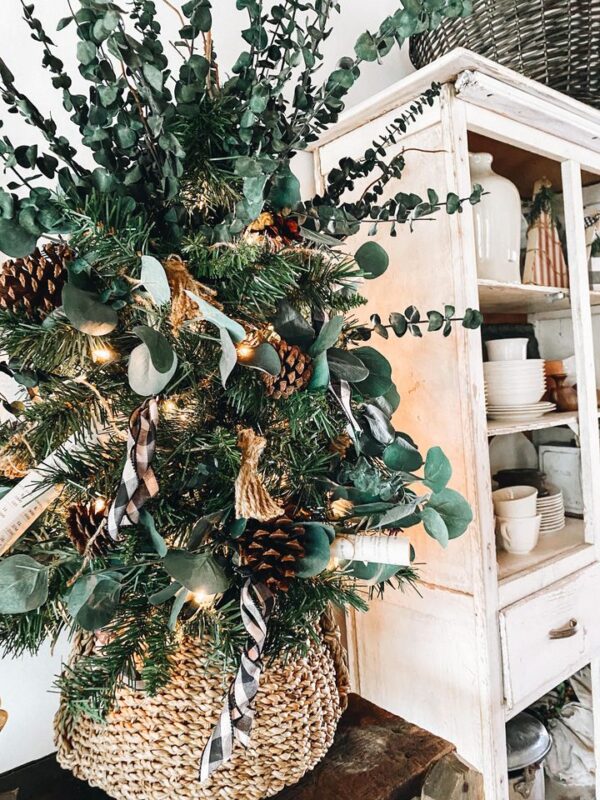 This euca­lyp­tus Christ­mas tree took on it's per­son­al­i­ty from the time I place it in this lit­tle wick­er bas­ket. I found mine at a dis­count store but ama­zon has a selec­tion of wick­er here.
The bas­ket housed some euca­lyp­tus stems already so I just incor­po­rat­ed those into the top­per of the tree, again these are a thrift store find I already had lay­ing around the house. Thrift­ed or not, when they were paired with rolled pages from an old book, it imme­di­ate­ly took on an ele­gant yet rus­tic feel.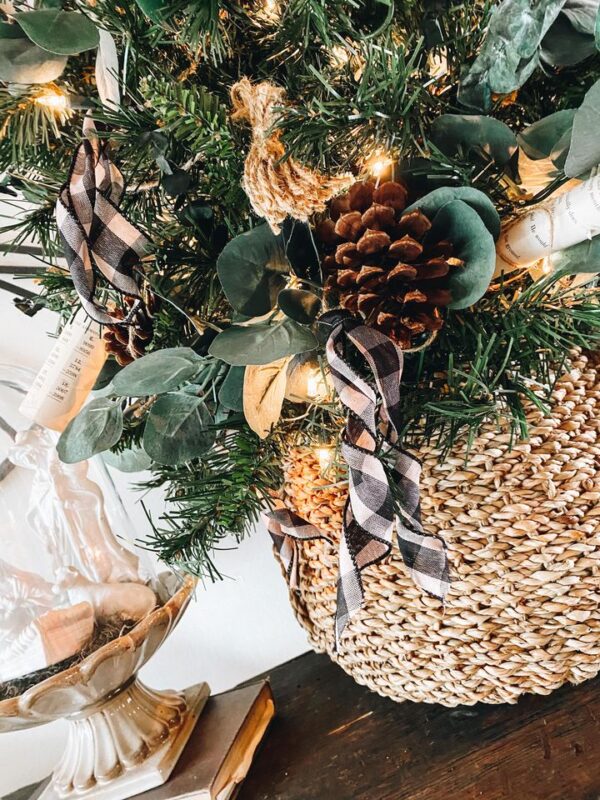 Not only did I reuse a fall gar­land, I also styled the tree with anoth­er DIY from years past. Can you guess which one?
If you said the spray paint­ed nativ­i­ty, you are right1
The lit­tle white nativ­i­ty you can peep in the cor­ner has a spe­cial place in my heart. Read all about where I found it and how it was giv­en new life HERE
I think it is the per­fect com­pli­ment to this euca­lyp­tus Christ­mas tree. What do you think? I mean after all, that is what Christ­mas is all about!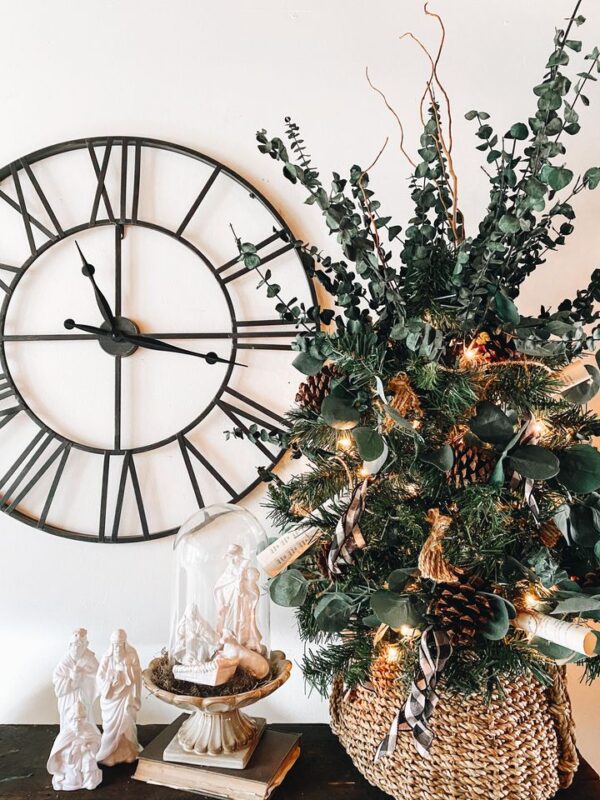 This lit­tle euca­lyp­tus tree is like find­ing love on a blind date. I had no idea what I was get­ting into when I walked in but boy did I love the end result!
I hope this is an inspi­ra­tion for you to shop your own home and old looks for a way to put a fresh spin on them!