Do you have an old piece of decor that has seen a bet­ter day, or maybe, if you're like me, it just does­n't match your cur­rent style. I have held on to this can­vas for year­rrrs. Lit­er­al­ly. Because I knew one day I want­ed to give it a makeover.
This easy old can­vas makeover will have you look­ing around your home for things that you can change up. Trust me, I am so so hap­py I hung on to it for all these years. This piece it stun­ning and looks like it came right off the shelf.
I could kick myself for not get­ting a great "before" pic­ture. I was just way to excit­ed to get this project start­ed but you can catch a glimpse of it in the OLD CANVAS DECOR MAKEOVER VIDEO TUTORIAL I shared over on Facebook.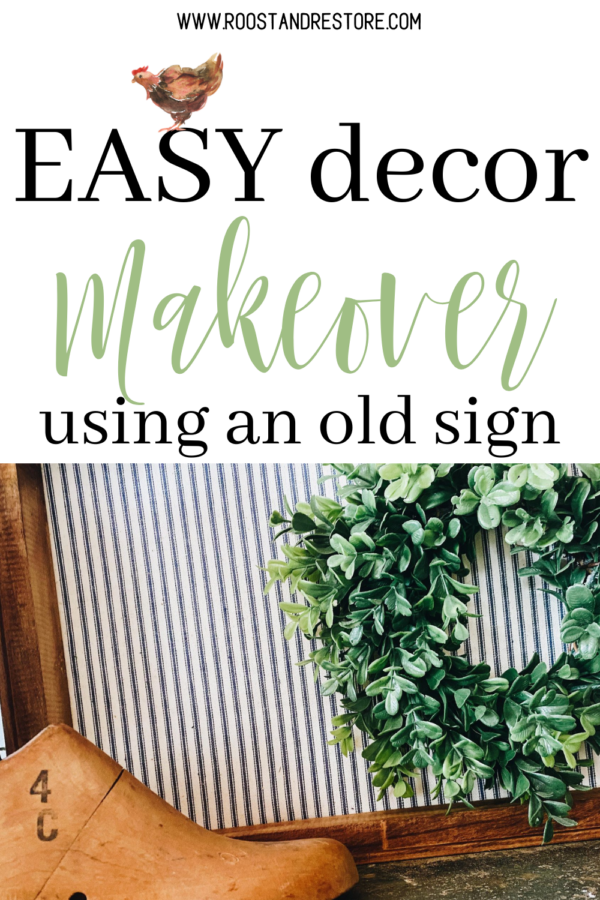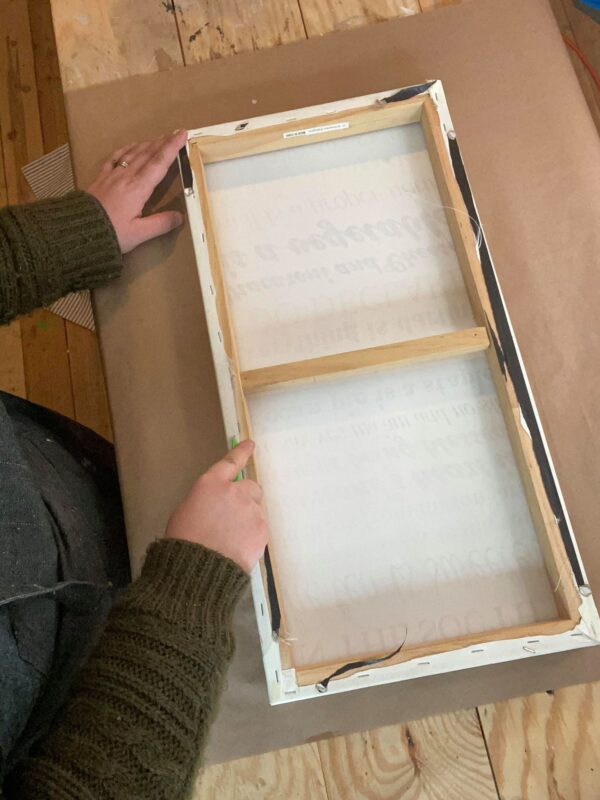 I start­ed this easy old can­vas decor makeover with a small box cut­ter. It is way eas­i­er to just cut the old can­vas off of the exist­ing frame than to pull indi­vid­ual staples.
This old can­vas had a divider in the mid­dle, I am assum­ing for sup­port. I debat­ed on whether or not to keep in as a part of the frame but ulti­mate­ly decid­ed it would look best if it were removed.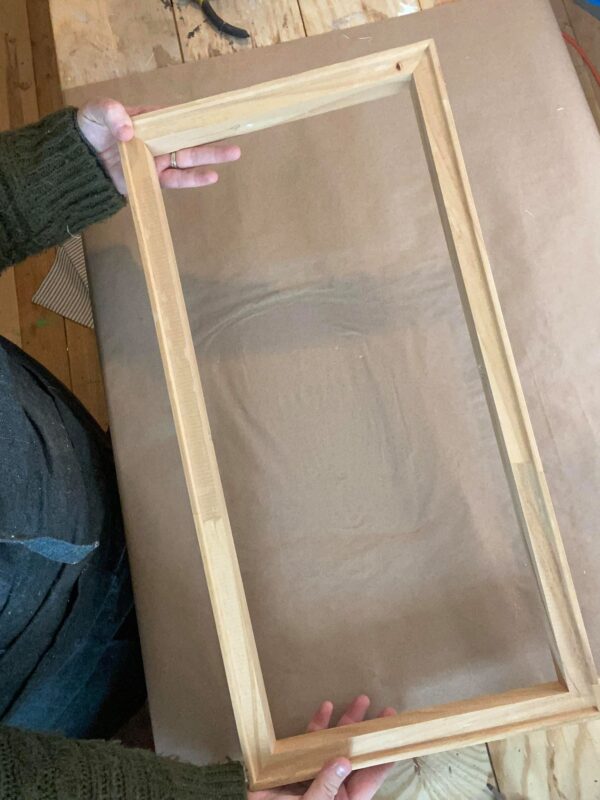 This is the beau­ti­ful frame I was left with. I mean, how pret­ty right? It was way to pret­ty to just throw away or be covered.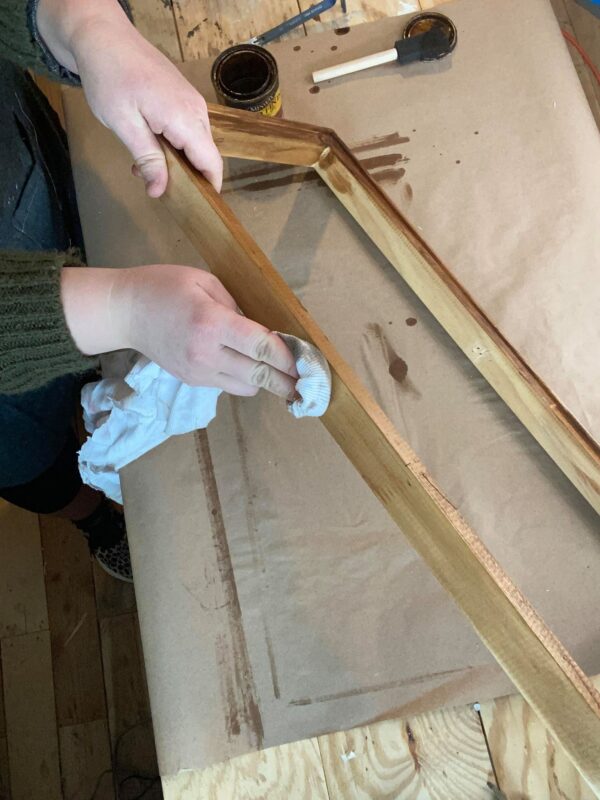 Next, came stain. I actu­al­ly com­bined two col­ors for this look. I had a lit­tle left in each can. This col­or is made from Ear­ly Amer­i­can and Spe­cial Wal­nut by Min­wax. I also have a cou­ple stain recipes for mak­ing your own stain. if you would like to give it an try.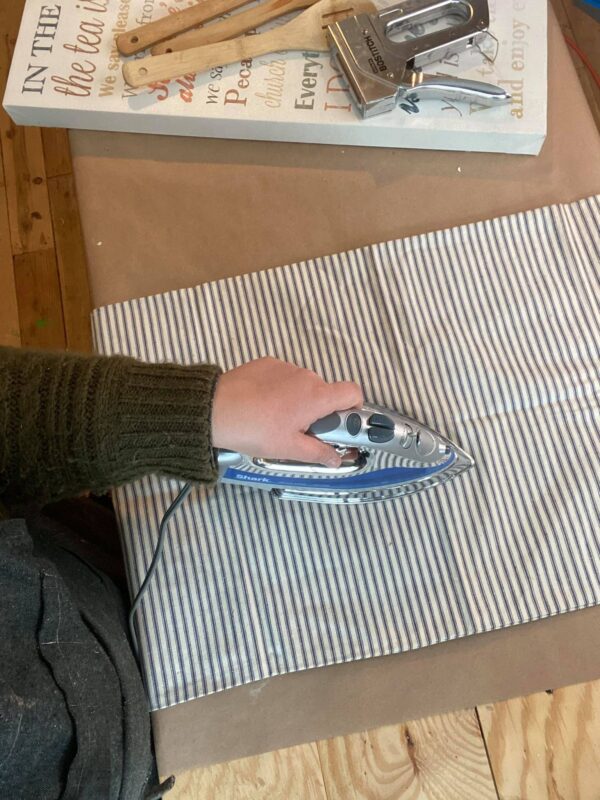 I had a piece of fab­ric I found at a barn sale recent­ly. It has that per­fect, blue farm­house tick­ing and I knew it would be per­fect for this old can­vas makeover. It was wrinkly from stor­age so a quick iron job did the trick.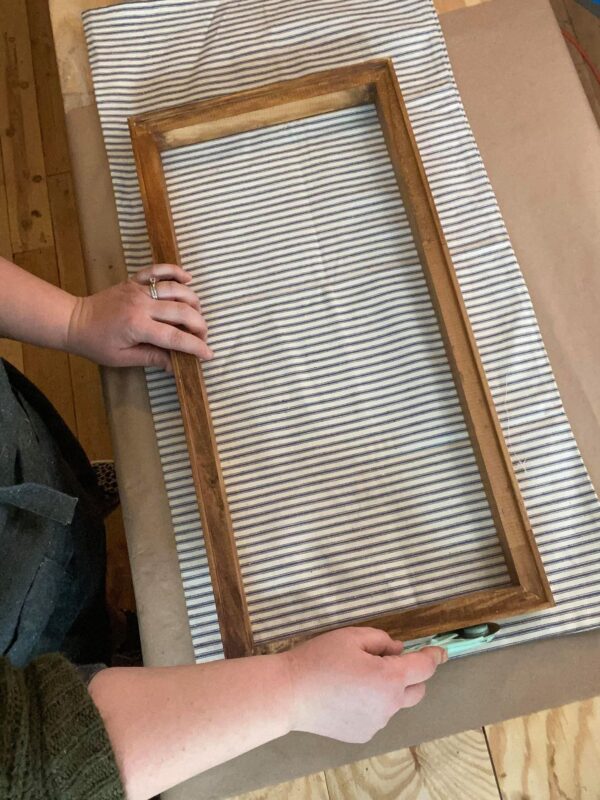 A quick mea­sure and cut with this rotary cut­ter and I was ready to start sta­pling the fab­ric to the back of our new­ly stained can­vas frame. Have you ever cre­at­ed a reverse-can­vas project? They are so much fun to decon­struct and reassem­ble. You're left with a beau­ti­ful piece of wood and lit­er­al­ly a blank can­vas to cre­ate what­ev­er your heart deasires.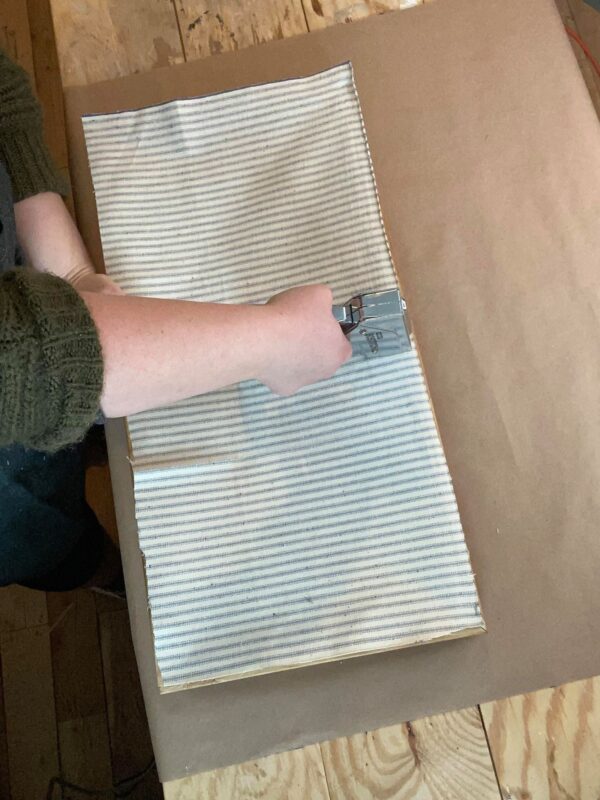 If you're work­ing with a small­er can­vas, you could eas­i­ly hot glue your can­vas to the back of the frame instead of sta­pling. For me, this is a larg­er project and I want­ed it to be nice and sta­ble. I used a sta­ple gun to attach the fresh­ly iron fabric.
My per­son­al tip. Start by sta­pling your cor­ners first, then stretch your fab­ric, alter­nat­ing from one side of the frame to the other.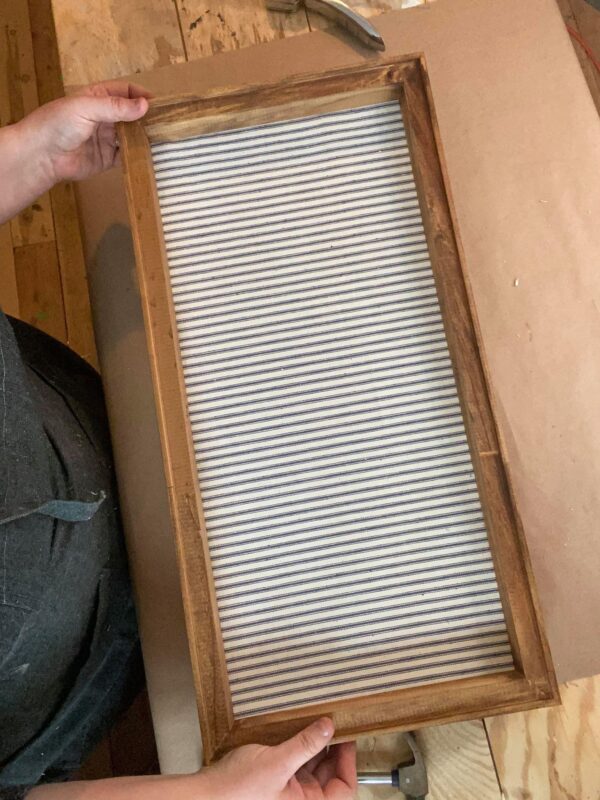 Y'all. This is the moment when I knew this can­vas makeover was going to be a home run. Just look at those beau­ti­ful stripes and that per­fect stain! Wow.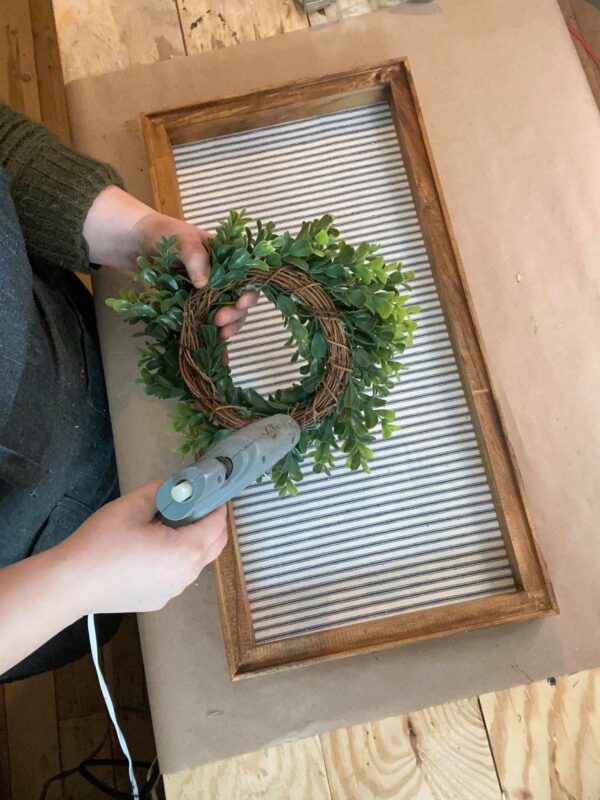 This part if the video tuto­r­i­al went pret­ty quick. All you real­ly need to know is that I attached this adorable lit­tle box­wood wreath with hot glue! I used one I had on hand but you can make your own or shop cute wreaths com­ing to my Home Goods Mar­ket in the near future!
I styled this beau­ty in a cou­ple dif­fer­ent places in my home because I haven't quite decid­ed where­to put it but I think you would agree, it fits my decor per­fect­ly! I hope this can­vas makeover was inspir­ing for you! Head to that decor clos­et or grab that piece off the wall and spruce it up a bit, so you too can have a beau­ti­ful new piece of resource­ful decor for your home.