These DIY wood peg orna­ments are the per­fect lit­tle rus­tic touch for your Christ­mas tree! Not only are they sim­ple and rus­tic, but these wood peg orna­ments are so incred­i­bly easy!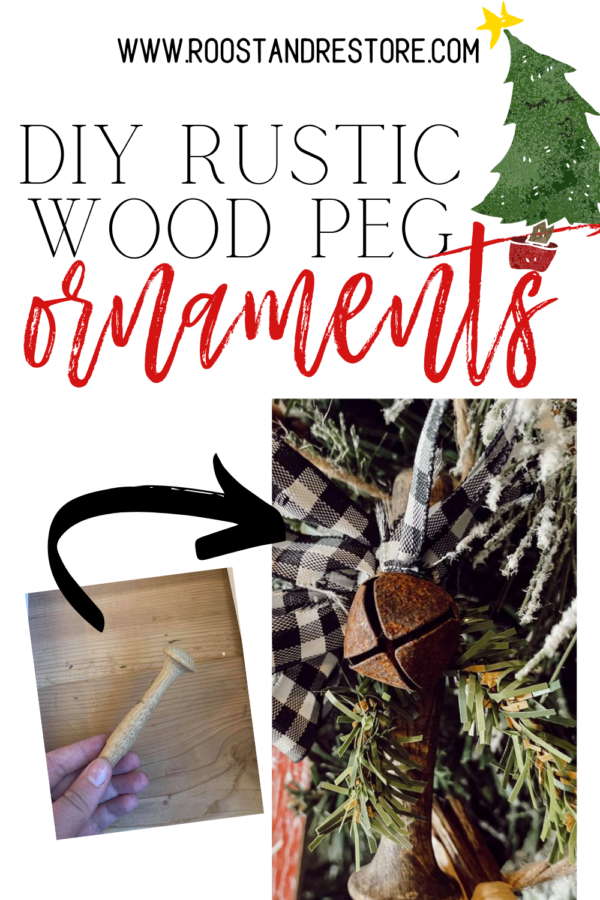 I was for­tu­nate to be gift­ed these lit­tle pegs but but I have linked them in the sup­ply list below for your convivence.
What supplies do I need?
Rib­bon and embell­ish­ments of choice
How to make Rustic Wood Peg Ornaments
Time need­ed: 20 min­utes.
Stain the Wood Peg

Use a paint brush to apply a thin coat of Valspar Antiquing glaze. This gives the wood a nice aged effect with­out using a messy stain or dis­tress­ing. It sim­ply brings out the beau­ty of the wood itself.

Attach Rib­bon

The next step is attach­ing your rib­bon. A vari­a­tion of col­ors and pat­terns can make these wood peg orna­ments unique to you and your tree. For a nice full effect I sug­gest a few lay­ers of rib­bon. I sug­gest thin strips for pegs like these. The rib­bon demon­strat­ed here is 1in ribbon

Embell­ish

Once the rib­bon was in place, the real fun begins! Noth­ing says rus­tic farm­house like rusty jin­gle bells, am I right? A com­bi­na­tion of bells and clip­pings from an old arti­fi­cial tree to top off this rus­tic lit­tle ornament.


Cre­ate a Hang­er

This step is a no brain­er. You have to cre­ate a way to hang your new wood peg orna­ment. My best sug­ges­tion is tying a loop in some good ole jute twine and attach­ing with hot glue! Easy as pie.
You can con­tin­ue these steps list­ed above, alter­ing fab­rics, bows and tex­tures to make an assort­ment of adorably rus­tic wood peg ornaments.
I just love how easy these are to cre­ate and I am in love with how stinkin cute they turned out. Do it your­self orna­ments are my favorite thing to cre­ate this time of year. In my house, lit­er­al­ly noth­ing is safe from becom­ing an orna­ment on my tree.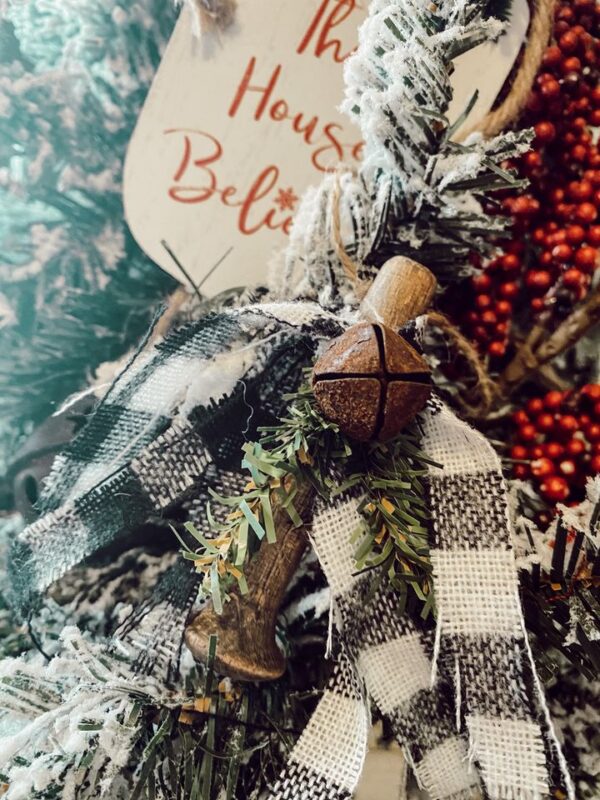 You can see a whole col­lec­tion of DIY orna­ments HERE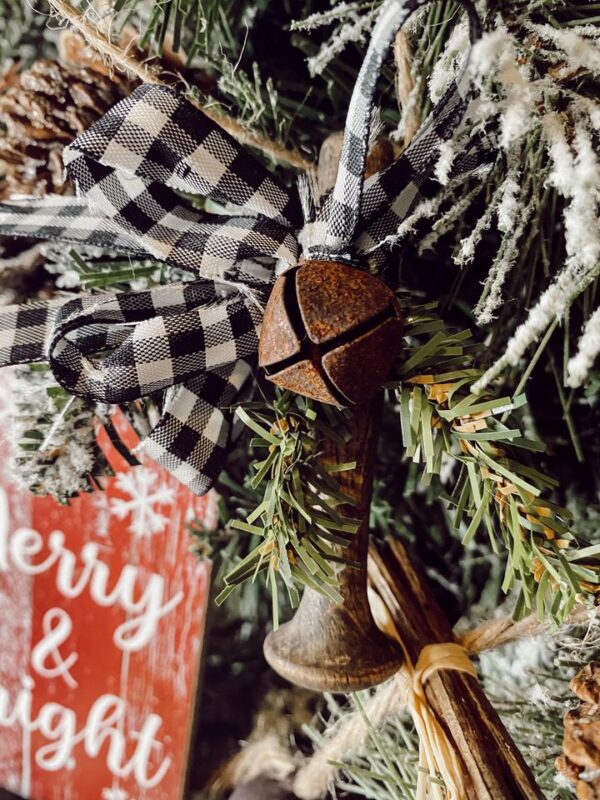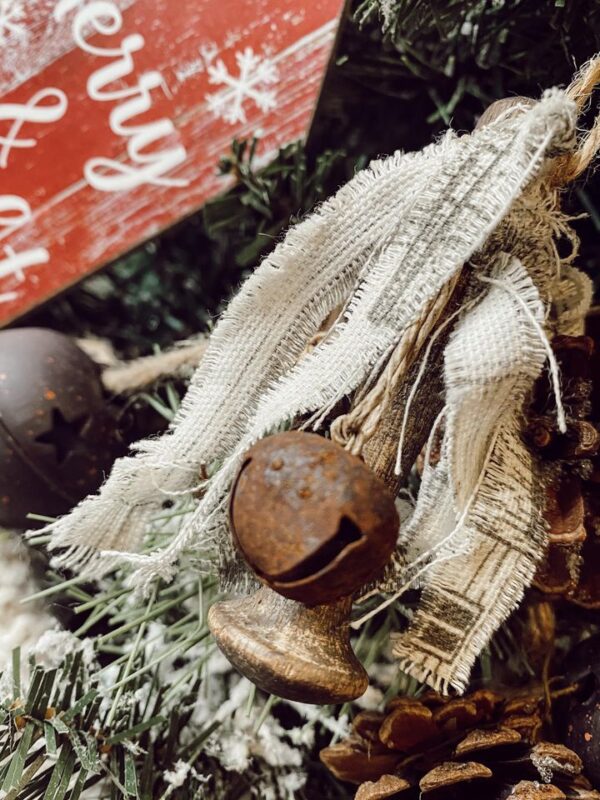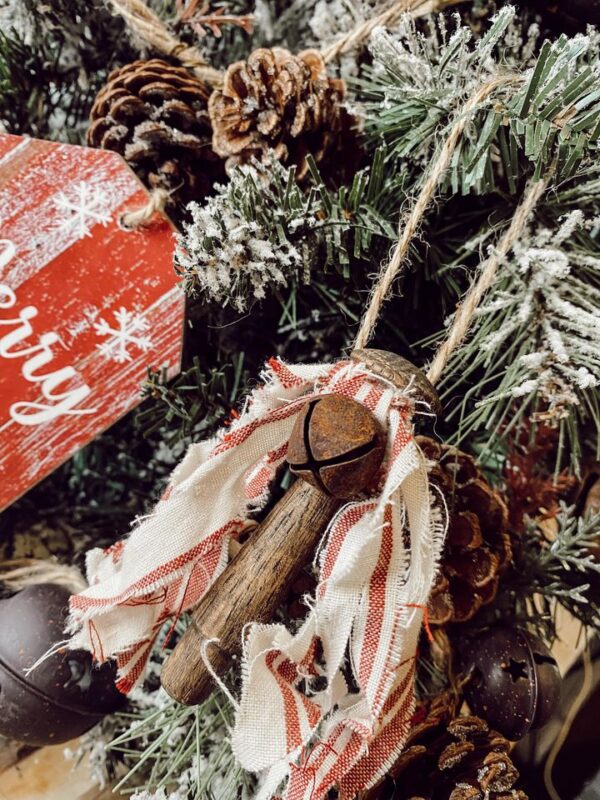 If you liked this project I think you will love our rus­tic print­able collection