There are plenty of reasons to choose raised garden beds over traditional planting. They are easier to weed and maintain, plus they make gardening look organized and beautiful. This year, like years before, we are chosing to raise our beds bly.ut I am approaching things a bit different
This year I am excited to have my own kitchen garden which will consist of a 14×14′ space and four 3×5′ beds. Eventually I have dreams of a white picket perimeter fence with an arched entryway. Complete with river rock, an assortment of potted herbs and flowers around the perimeter. Yes I know, big dreams. It will take some time and care to get there but a girl can dream right?
The area we are dedicating to the raised beds is located near the chicken coop and clothes line, so I am imagining it becoming a very relaxing, functional and beautiful space. In the past our beds have been temporary and meerly for food production and well…ugly, for the lack of a better word. This is obviously the reason for planting, to produce food…buuuut my decoraters heart needs to have things pretty.
Planning your beds can be overwhelming especially is you want to focus on asthetic. Thank goodness you aren't the only one paving the trail for a beautiful garden. I have gathered a collection of beautiful garden spaces of different, shapes styles and conviencences that I am eager to share with you.
I hope you find these inspiring for your own garden space.
I love the use of the space here. A simple waist high u-shape allows you to maximise your space amd makes weeding and picking a breeze. The solar lights are a nice touch of charm and beauty for the evening hours.
2. COZY COTTAGE STANDARD PLANTERS
This particular set up stopped me in my tracks. It looks super similar to my existing chicken coop. Colors and all. I think this particular set up is a garden shed, but it does have me considering relocating my beds closer to the coop for more of a small cottage type feel. The garden beds themselves are simple and spaced nicely and convieniently located near the garden shed!
This is an excellent way to mkae your veggies easy to care for. A waist high planter would easily eliminate the need for bending, not to mention it would help to keeo critters and compact soil to a minimum. Compact soil makes it difficult for plants to take room. It comes from stepping between the plants and the rows when caring for them.
4. MINI BEDS
Why is it that when you make something miniature ut automatically becomes cuter? The same principle applies here. I like the idea of the plants receiving very individualized care this way. It would be great to consider these smaller beds when planting high spreading herbs like mint. This would prevent the takeover and keep them from competing for resources.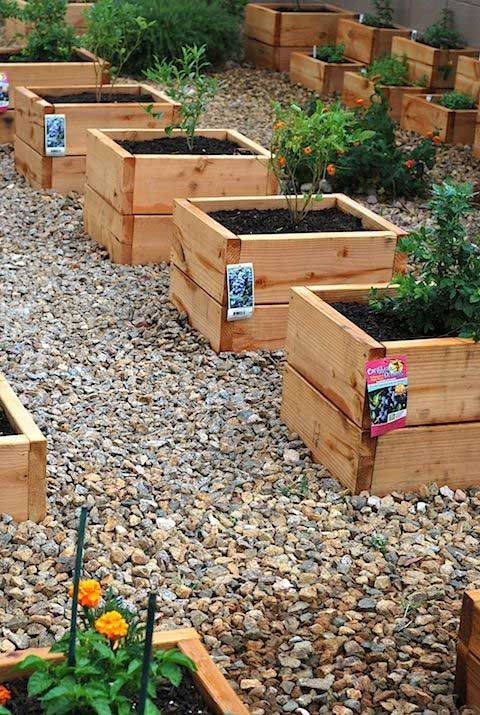 I am not sure which I appreciate more, the ingenuity of the blocks or the adorable picket fence around the perimeter? A picket fence around a garden checks both of the marks here. Is it beautiful? Absolutely! It adds purpose and creates the space. The functionality is there too. Fences are a great way to deter deer and other critters that may want to snack on your fresh veggies.
Upcycling pallets to build a garden bed is an excellent use of cheap (or free) resources. There are tons of pallet wood project ideas out there, why not use them for the purpose of creating a unique place to garden. They add a nice rustic touch to an organized way of growing.
Don't let the lack of space deter you away from putting fresh food in the soil. This stacked system is not only beautiful but it is a space maximizer! The narrow spaces around your walway or even on the back deck are the perfect place to slide in some fresh veggies within arms reach.
Did I mention that I love it when function meets style? Being resourceful while emcompassing both is just like the icing on the cake. This clever trick allows for a natural flow from the garden to the yard witht he use of logs. A good day of clean up around the homestead and you have yourself a stack of naturally beautiful garden barriers.
Raised beds can make all the difference when planting , pruning and picking from climbing plants. Having a trellis for cucumbers and even tomatoes will help make picking a breeze. I would even go as far to say that this would make a cute little orivace screen. I am imagining it on a porch or fence line to a neighboring property.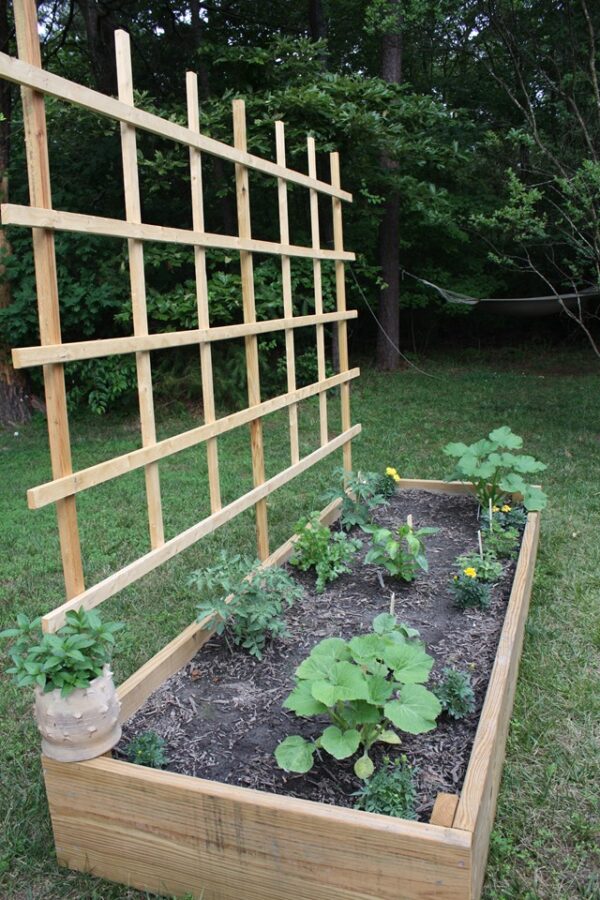 ARE YOU READY TO GROW BEAUTIFULLY?
PIN FOR LATER