We bought a farm! When I say we have wait­ed years for this that's exact­ly what I mean. Since Josh and I first met we have been dream­ing of the day we would own our own farm and we had the chance to rev­el in that bless­ing recent­ly at our first ever Porch Par­ty at the new­ly intro­duced R+R Farms and future home of our retail store Roost + Restore Home!
This is some­thing brand new we are bring­ing to our small town of Fan­cy Farm, KY, and if we're get­ting super tech­ni­cal, we are sit­u­at­ed on the cor­ner of 2 dead end roads in Dublin, KY. It's lit­er­al­ly too small for a stop light, much less its own post office. Nonethe­less, our farm it sit­u­at­ed on approx­i­mate­ly 50 acres in the mid­dle of nowhere, just the way we like it.
We knew right after tak­ing own­er­ship of the farm that we want­ed to share it with the com­mu­ni­ty and we imme­di­ate­ly began plans for an event that would bring out the best our area has to offer. That is when we decid­ed to host our very first semi-annu­al Porch Par­ty event on June 25th. With 6 weeks to exe­cute and a slew of ideas run­ning through our heads we got to work plan­ning and coor­di­nat­ing an expe­ri­ence we knew would be amazing!
After shar­ing the idea with my online com­mu­ni­ty the inter­est from ven­dors blew us away! We had over 50 appli­ca­tions for booth spots and we com­mit­ted to 30 amaz­ing mak­ers, small busi­ness own­ers and Amish bak­ers to set up at the event. (Below) I have list­ed a few (not all) of the ven­dors we had the oppor­tu­ni­ty to share out farm with!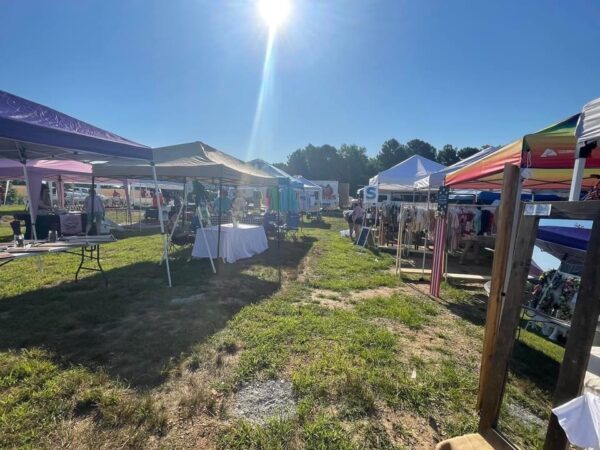 Gates opened at 9 am and our first vis­i­tor arrived at 8:30 am! I guess you could say the rest is his­to­ry but that real­ly would­n't do the day jus­tice. Our des­ig­nat­ed park­ing area was over­flow­ing into the fields by 10:30 am and folks just kept com­ing! It was both hum­bling and excit­ing to see so many peo­ple take time out of their week­end, in the extreme heat for that mat­ter, to vis­it our lit­tle farm on the corner.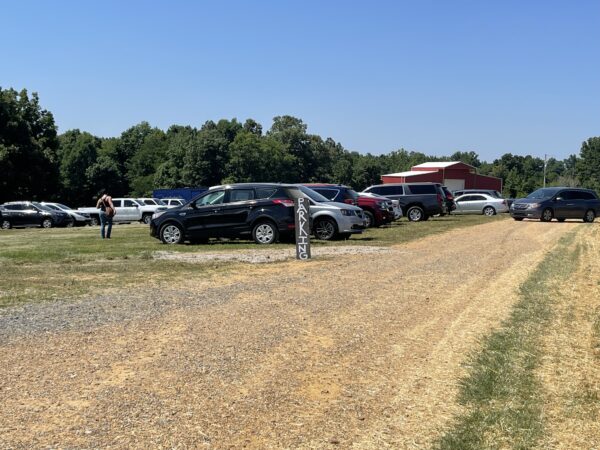 No mar­ket is com­plete with­out yum­my food and sweet treats. Vis­i­tors were able to stay cool with fresh straw­ber­ry lemon­ade from Jones Farms Dessert Mar­ket, and iced cof­fee from Fron­tier Cof­fee! We also had mini driz­zle donuts from KC's Donuts and fresh, made-to-order plate lunch­es from Jay's Sand­wich­es and sides. It was the per­fect com­bi­na­tion of sweet and savory and all the food got rave reviews which we are so proud of!