I have been dream­ing of dec­o­rat­ing this man­tle and fire­place and tonight I am so exci­tied to final­ly be shar­ing it with you! The new home we just moved into has this amaz­ing con­crete stone gas fire­place with a large wood­en man­tle. Even­tu­al­ly I plan to white­wash the stone and bright­en up the entire room but this year I dec­o­rat­ed it as-is and I could­n't be happier!
The best part of this whole set up is the nice blend of thrift­ed finds and new items that come togeth­er to cre­ate a rus­tic, yet ele­gant and cozy look.
This look all began with this mir­ror. In fact, I had pur­chased a round mir­ror for this very spot. I had seen so many inspi­ra­tiona man­tles and my heart was set on a round one.…until I stum­bled across this beau­ty at Good­will for $9.99! I was already paint­ed white with a bit of nat­ur­al dis­tress­ing, which I love! If I can get my hands on a piece that is show­ing some nat­ur­al wear or chip­py-ness, I snag it up. When I perched this beau­ty on top of the man­tle it instant­ly became my anchor piece and I began to build the look around it. Now, let's talk about the gar­land! I am tick­led with this gar­land from Wal­mart. They are real­ly rock­ing their Christ­mas decor this year and I snagged up two of these lovlies (I only used one for this) for less than $10 It is full and also flocked which is a bonus. I sim­ply lay­ered it with some bead­ed gar­land I already had to bring the look together.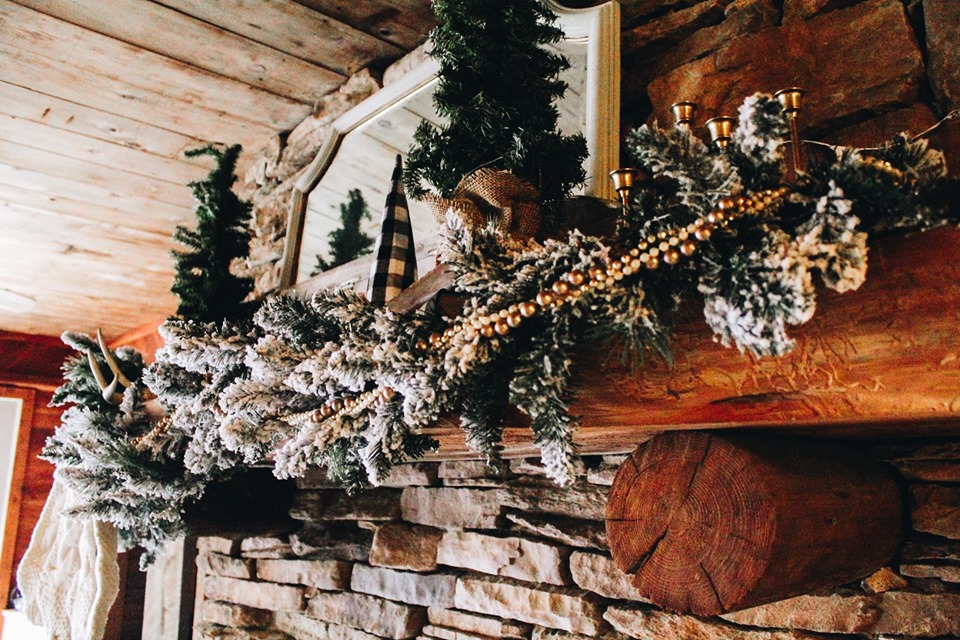 These trees, as sim­ple as they are, real­ly bring bal­ance and play well with the neu­tral and rus­tic look I was going for here. I almost flocked them but decid­ed to hold off and I am glad I did. I got these on sale for 50% off at a local home decor shop and stacked one on some thrift­ed vin­tage books for extra heigth.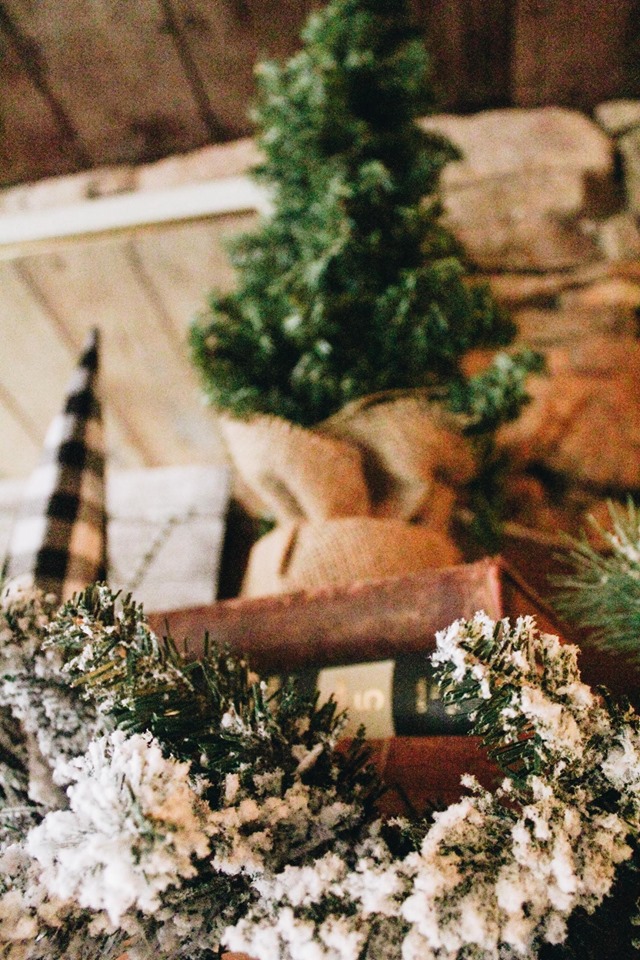 This year I opt­ed for new chunky knit stock­ings from Ama­zon. I actu­al­ly thought they were much larger…haha that's what I get for not read­ing descrip­tions before shop­ping online. Either way, I love the tex­ture and bal­ance they bring by being grouped togeth­er to one side. I plan to leave these up through the win­ter sim­ply because they just scream"cozy" if you know what I mean.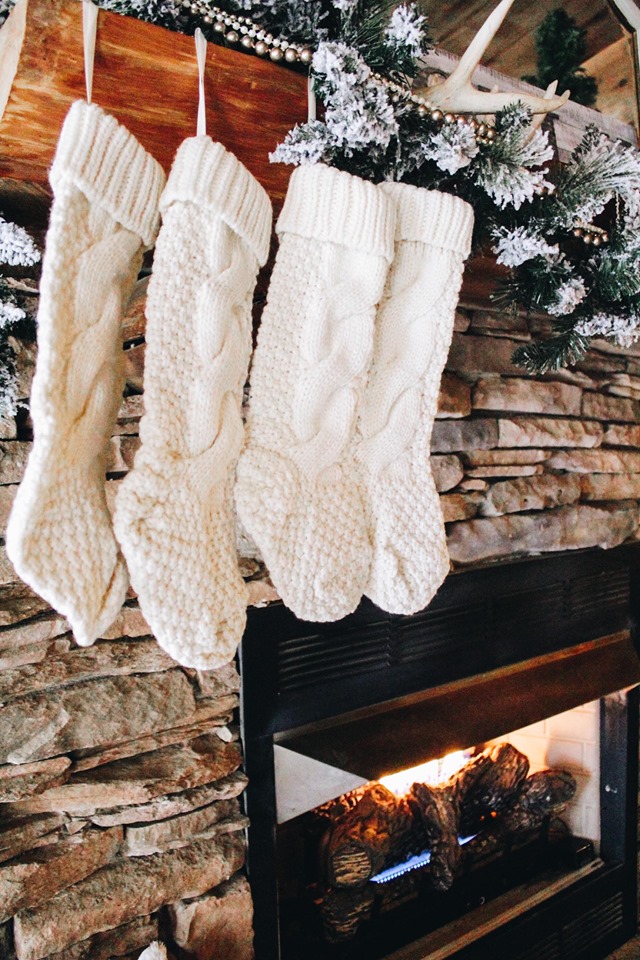 This may be my favorite part of the mantlescape. My hus­band found these antlers in the woods of the first prop­er­ty we bought and ren­o­vat­ed. He came across them by acci­dent and we have had them ever since. This time of year in West­ern Ken­tucky the deer are run­ning like crazy! By default they just seem to be a part of the sea­son and hol­i­days. They bring part of the his­to­ry of this house into the decor and fit right in with the wood tones and greenery.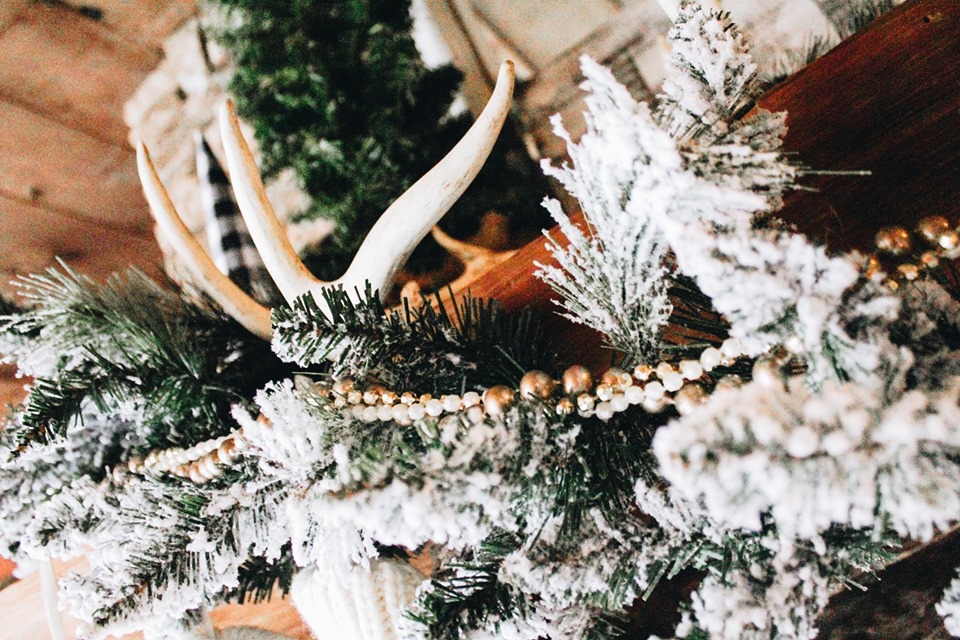 Of course I brought in some black and white buf­fa­lo check trees from Hob­by Lob­by to tie in with my tree. Then, with a sprin­kle of brass can­dle­sticks and my updat­ed "Jol­ly" sign and she was com­plete! I would love to know your thoughts on this reveal! To me it is absolute­ly beau­ti­ful and takes the liv­ing space up to a whole new lev­el of cozi­ness! The best part…it's per­fect to leave up all Win­ter long!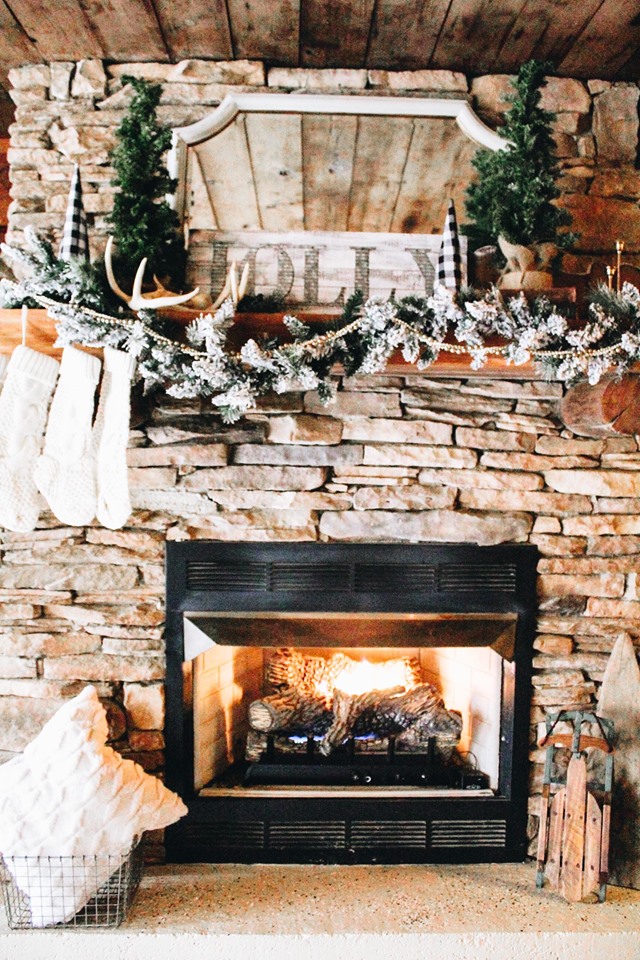 -PIN FOR LATER-