Last week we had the amaz­ing oppor­tu­ni­ty to part­ner with a local mini farm here in West­ern Ken­tucky for a beau­ti­ful and unique cel­e­bra­tion. Here at Roost and Restore we were look­ing for a unique way to cel­e­brate us reach­ing a HUGE mile­stone of 100 thou­sand fol­low­ers on Facebook.
A pri­vate pic­nic at Feath­er­Stone Farm was just the ticket.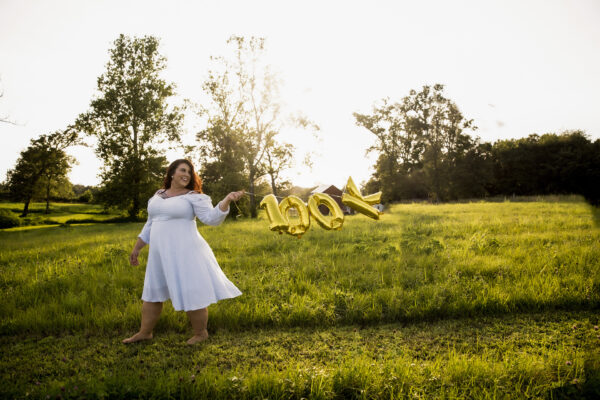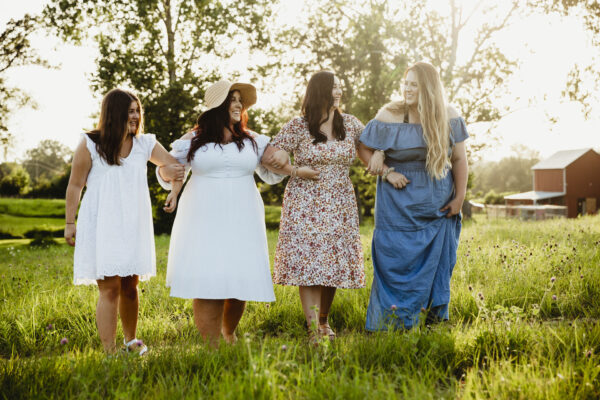 I could­n't imag­ine a place more fit­ting for me and my team. A beau­ti­ful field near a quaint pond and and sheep graz­ing in the distance…sign us up! As we walked up the hill through the mowed path­way we encoun­tered a beau­ti­ful spread of vin­tage sheets, antique quilts, and old crock filled with wildflowers.
Talk about mak­ing a girl feel special!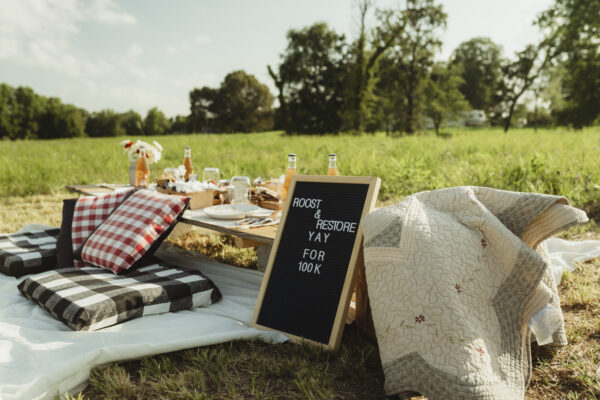 Emi­ly and Jor­dan pre­pared a deca­dent Smore's graz­ing board for us girls to enjoy togeth­er. Com­plete with home­made Smore's dip in a mini cast iron, a vari­ety of smooth choco­lates and a sweet assort­ment of crack­ers for us to snack to our hearts con­tent. And let me just say, the cream soda was ah-mazing!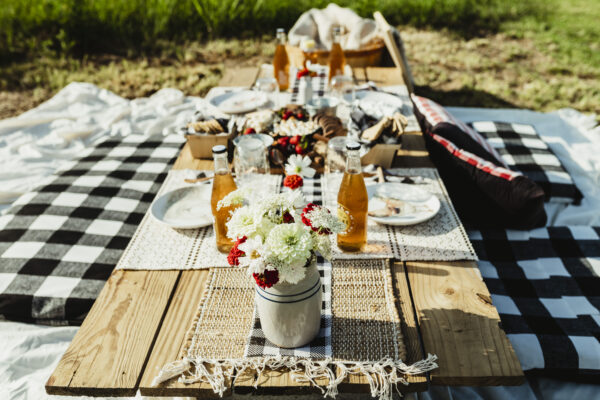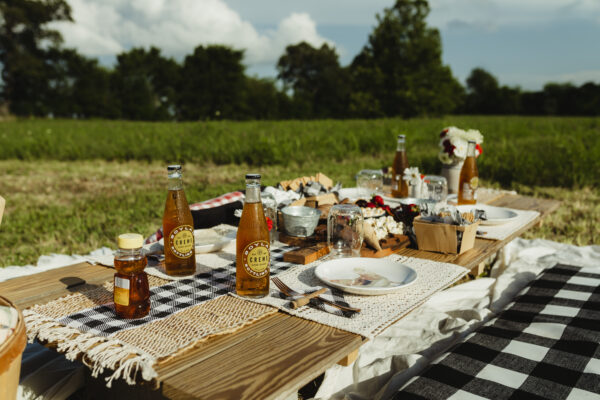 As if the board was­n't cute enough, look at those plates! Every detail of this this entire set up was curat­ed espe­cial­ly for Roost and Restore and our love for all things old-fash­ioned. This farm­house styl­ized pic­nic is cur­rent­ly 1 of 2 beau­ti­ful style choic­es that you can now enjoy for your­self, with friends or small celebration.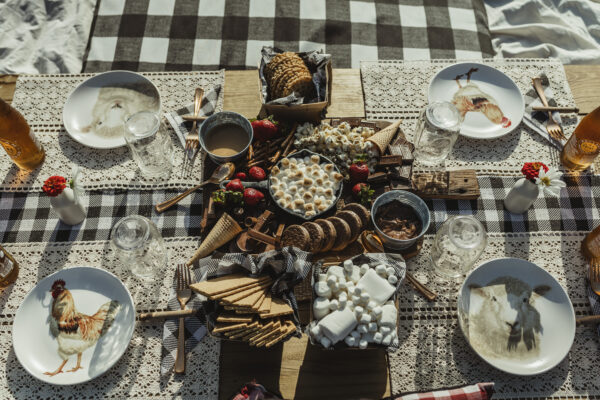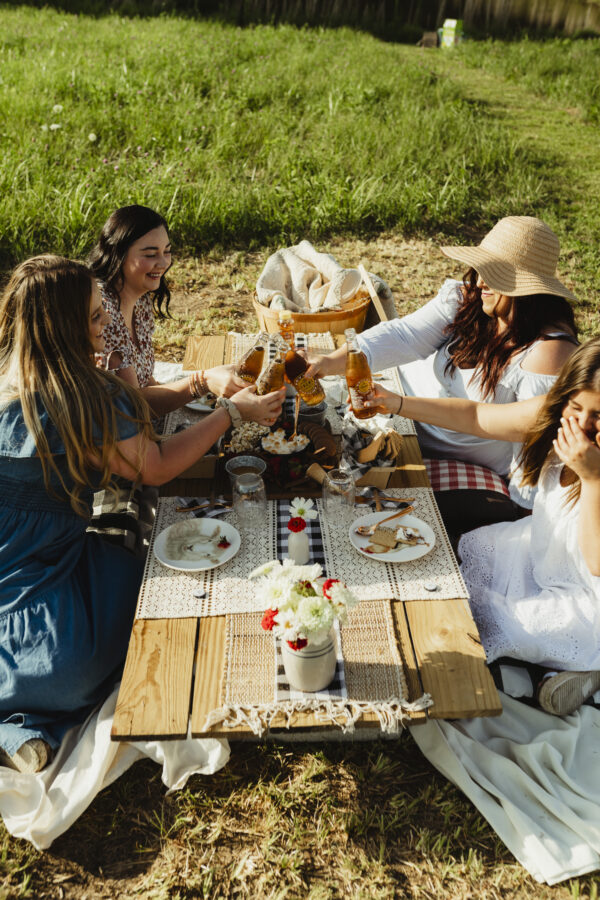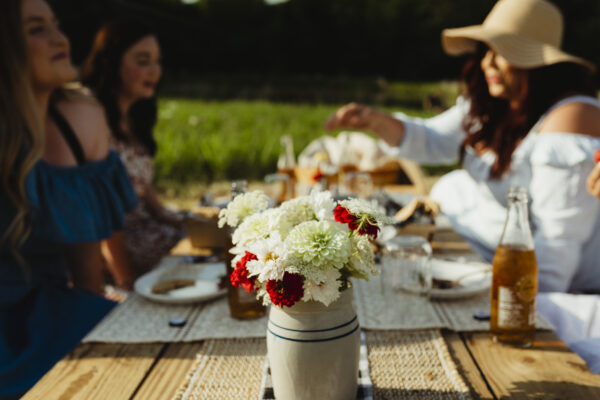 You will be hap­py to know, pri­vate pic­nics aren't the only thing you can enjoy on this quaint fam­i­ly farm. You can catch the month­ly Barn Mar­ket here through­out the year as well a cute tiny cot­tage full of antiques, hand made pil­lows, tea tow­els, and pot­ted suc­cu­lents scat­tered among oth­er sweet and unique trea­sures. ..includ­ing the sweet­est lit­tle bunny.
The Barn Mar­ket is a fresh new event in this small com­mu­ni­ty and it is bring­ing some of the areas most tal­ent­ed of arti­sans, col­lec­tors, and cre­atives togeth­er in one beau­ti­ful lit­tle set­ting on a back­road in Ken­tucky. Are you trav­el­ing to the area any­time soon, or want to know know more about the expe­ri­ences at this love­ly lit­tle farm? Click the but­ton below for more infor­ma­tion on events and gatherings.
If you did­n't already know, Roost and Restore's Home­Goods Mar­ket is a proud ven­dor at the barn along with oth­er Ken­tucky small busi­ness­es ; just to name a few…
Part­ner­ing with places like Feath­er­Stone and becom­ing friends with oth­er like-mind­ed busi­ness­es that love sup­port­ing local is one of the the things that keep us com­ing back again and again.
That is sec­ond of course to the pre­cious farm ani­mals! HA!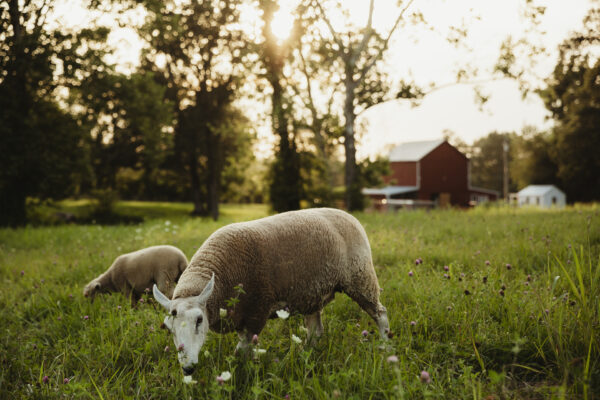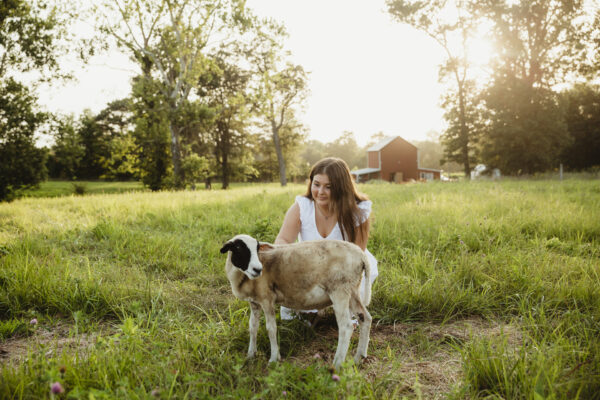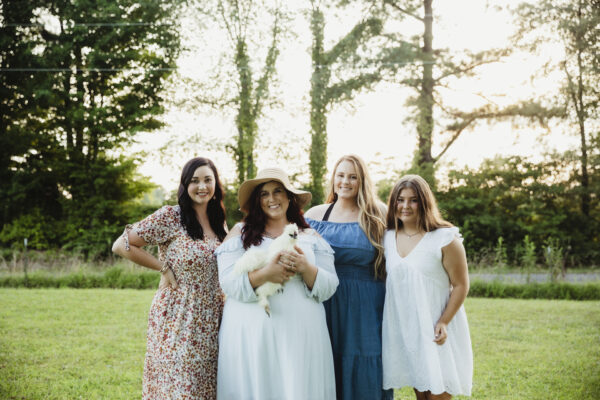 We always enjoy our expe­ri­ence on the farm and we invite you to come and expe­ri­ence this hid­den gem for yourself!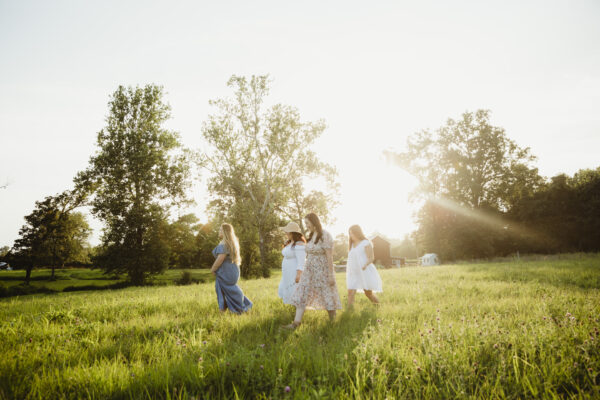 Remem­ber you can always shop our small hand-picked home decor bou­tique at www.roostandrestore.com/shop or catch us at the next Barn Market!