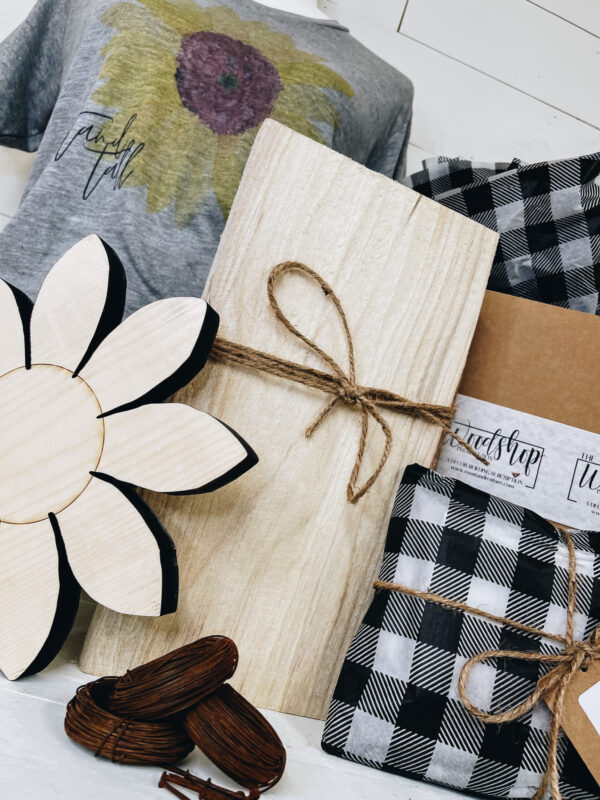 Y'all, I'm so excit­ed to reveal the con­tents of the July Wood Project Box from Roost+Restore! The girls and I have spent the last few weeks get­ting every­thing ready to ship these to your door––and we're sooooo thank­ful that this time we had air conditioning!
I believe that each box is bet­ter than the last, and this mon­th's box is full of bright and sun­ny DIY projects ready to be personalized!
---
Don't know what the Wood Project Box is? The Wood Project Box is a month­ly curat­ed DIY wood project box that is themed, sea­son­al and beau­ti­ful! Cre­ate your own beau­ti­ful decor for your home each month! With three dif­fer­ent options, you can pick the box that fits your needs. Join the wait­list to be the first to know when new spots open up!
---
Why Stand Tall?
Before I dive into the con­tents of the box­es, I want­ed to share WHY I picked Stand Tall as the theme. Ear­li­er this Spring, while drink­ing some sweet tea on the porch, I noticed sun­flow­ers start­ing to emerge from the ground. It got me think­ing about how many life lessons you can learn when observ­ing a sun­flower, and knew that I want­ed to encour­age you all in the hope of a sunflower. ?
Per­son­al­ly, sun­flow­ers have taught me a lot about being strong enough to stand up to voic­es that harm and aren't encour­ag­ing. They remind me that a deeply root­ed, strong foun­da­tion will pro­vide the nutri­ents to keep grow­ing strong, to sup­port a head held high, no mat­ter the storms you might weather.
Did you know sun­flow­ers keep their face point­ed towards the sky? Fol­low­ing the sun every day they are alive, proud­ly smile and offer their big ol' heads in a gen­uine act of wor­ship. They don't keep to them­selves (although they can grow wild and free on their own), but rise to the occa­sion as a gar­den show­stop­per when you see a uni­formed patch wor­ship­ping like a church choir.
Sun­flow­ers remind me that if you stand tall in your faith, you won't get dis­tract­ed from your pur­pose, and for me, that is keep­ing Jesus at the fore­front of every­thing I do. Whether being a wife, a mom­ma, a friend, a busi­ness own­er, or just being Kaycee, a daugh­ter of the one true king who has been washed in The Blood of Jesus Christ, I will stand tall!

Have I con­vinced you how awe­some sun­flow­ers are yet? 😉
Now, on to the reveal!
July Wood Project Box: Original Box
The Orig­i­nal July Wood Project Box comes with all the wood you need to build beau­ti­ful decor. You'll need a few basic craft­ing sup­plies, like paint or a ham­mer, but you'll nev­er need a pow­er tool to cut your wood. We walk you through how to assem­ble with video tuto­ri­als and have a month­ly project par­ty and a styl­iz­ing night to hang out and show off our projects. Includ­ed is a mem­bers only dis­count to The Home­Goods Mar­ket, and a spe­cial gift from us to you.
Know­ing that I want­ed to incor­po­rate sun­flow­ers, I cre­at­ed two beau­ti­ful wood projects that reflect the theme of Stand­ing Tall while help­ing ease your decor out of sum­mer and into Fall. To see how I DIY-ed the projects this month, read about how I used a unique paint­ing tech­nique to style this beau­ti­ful DIY Sun­flower Shelf Sit­ter, or how some nails and a flower pick trans­form a wood block into a Rus­tic Wire Mason Jar craft.
July Wood Project Box: Combination Box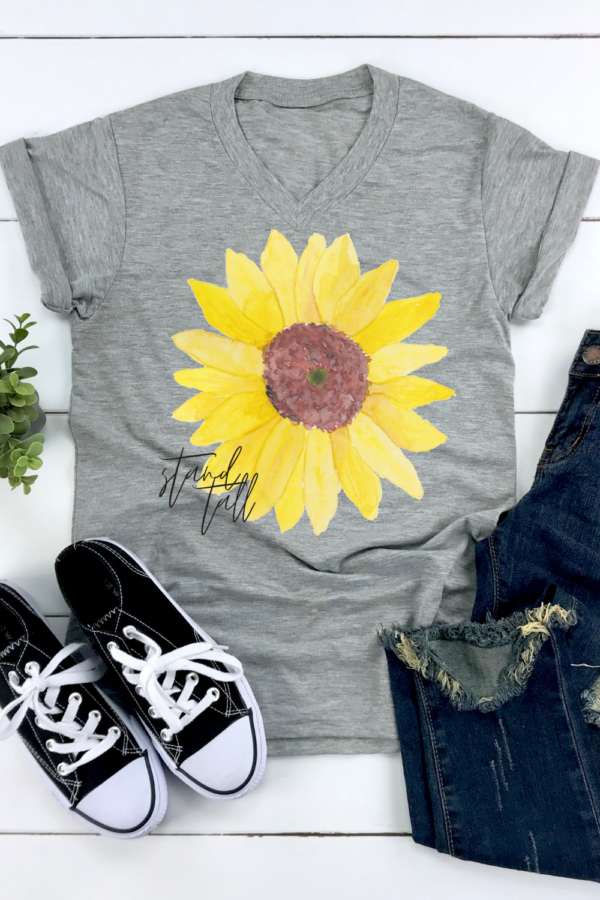 After lis­ten­ing to our sub­scribers, we decid­ed to expand our Wood Project Box options by com­bin­ing the Wood Project Box with the Month­ly T‑Shirt Club sub­scrip­tion to cre­ate the Com­bi­na­tion Box option. In addi­tion to the con­tents of the orig­i­nal Wood Project Box, you'll receive an exclu­sive tee shirt designed by me, Kaycee, and print­ed local­ly in Ken­tucky! The t‑shirt design is based on that mon­th's design, and must be ordered before the 5th of the month to guar­an­tee that mon­th's design. These shirts are super soft and breath­able, and always fea­ture a taped v‑neck collar.
Want to upgrade your Orig­i­nal Box to the Com­bi­na­tion Box? Send us an email!
July Wood Project Box: Ultimate Box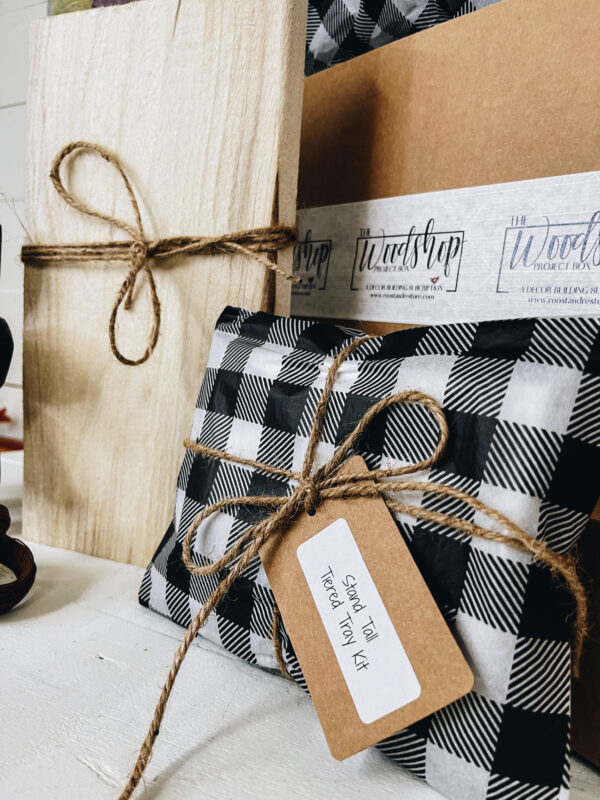 The Ulti­mate Box brings you even more DIY wood decor projects in the form of the Roost+Restore Tiered Tray Kits! We built out the Com­bi­na­tion Box by adding addi­tion­al themed laser cut wood pieces ready for paint and assem­bly to make your tiered trays stand out! Each kit comes beau­ti­ful­ly wrapped in buf­fa­lo check tis­sue and twine so it's just like open­ing a present on Christ­mas morn­ing! The Tiered Tray Kits are exclu­sive to the Ulti­mate Box sub­scribers, so if you're itchin' for more DIY projects, the Ulti­mate Box is the box for you!
Join a community of other like-minded creators, ready to decorate their homes with DIY decor!
---
Ready to join the Wood Project Box and start DIY-ing your own beau­ti­ful decor? Space is lim­it­ed, join the wait­list to be the first to know when new spots open up!