I know we're all in the thick of sum­mer, enjoy­ing BBQ's and sit­ting on the porch watch­ing the fire­flies each night, but all good things come to an end at some point. That is why this week, I'm high­light­ing my favorite Fall Tran­si­tion pieces we're car­ry­ing at the Home­Goods Mar­ket!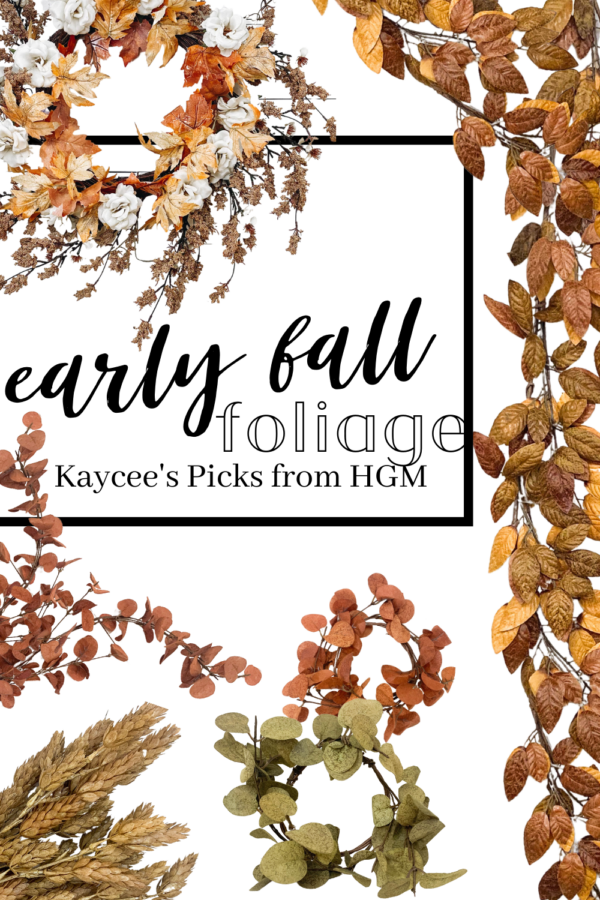 I know what you're think­ing, it's way too ear­ly to be think­ing about Fall, but hear me out. Back to school is just around the cor­ner, apple pickin' sea­son isn't that far off, and if you're any­thing like me, you have been fly­ing the patri­ot­ic decor since Memo­r­i­al day! Although I am a suck­er for red, white, and blue decor, I'm ready to add in sun­flow­ers and the gold­en tones of August! Just look at my lat­est DIY Tuto­r­i­al where I trans­formed some card­board and flower picks into a beau­ti­ful tran­si­tion­al Fall Sign!
Each item I'm fea­tur­ing this week is part of our much larg­er Fall Col­lec­tion avail­able at the Home­Goods Mar­ket. Some items may be out of stock because we are a small batch home decor bou­tique. We rec­om­mend that if you see some­thing you love, add it to your cart right away. If you're look­ing for some­thing spe­cif­ic, or if we are sold out of an item you want, send us an email so we can know what we should add to the shoppe next.
Let's jump in!
Beige Hops Bush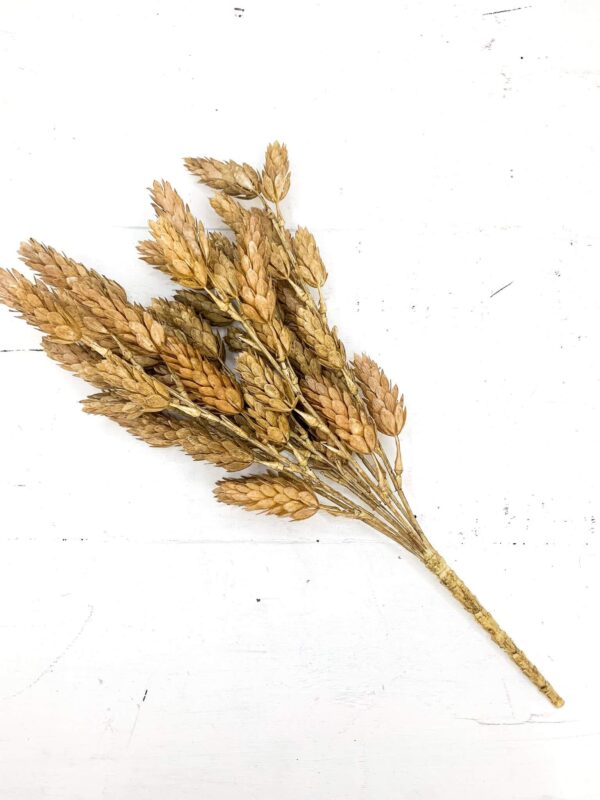 The Beige Hops Bush gives me all the feels y'all. Seri­ous­ly! If you saw my What's New Wednes­day this week on Face­book, you'll see that I styled them wrapped up in a hym­nal page and a lit­tle twine. They would be per­fect on a cof­fee table tray, in a beau­ti­ful glass jug, or used for a craft. I love that it's made of plas­tic so there is some weight and dimen­sion, but still retains a dried foliage look. At 15 inch­es tall, it's the per­fect neu­tral decor piece that would make a Fall tran­si­tion seamless.
Vel­vet Ash Garland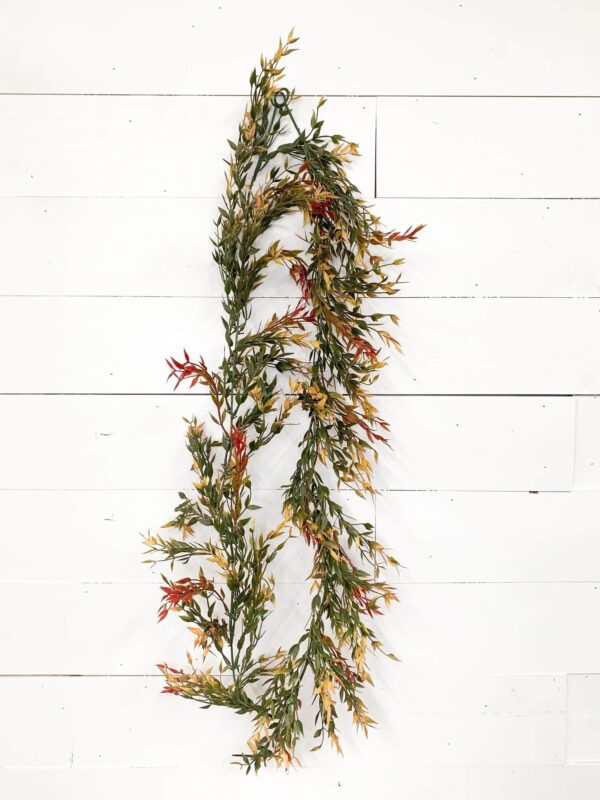 Do you leaf peep or do you go look at the Fall foliage? ? One of my FAVORITE things about the Fall tran­si­tion is start­ing to see all the leaves change col­or. This beau­ti­ful Vel­vet Ash Gar­land hits the mark with its assort­ment of hues! The tips are autumn kissed, but the vibrant green is still hold­ing strong. It's six feet long, and has two loops at the end to make hang­ing it up a breeze. It's flex­i­ble, and can be used to lay­er with oth­er gar­lands (like the First Fall Gar­land), or on a din­ning room table or mantle.
First Fall Garland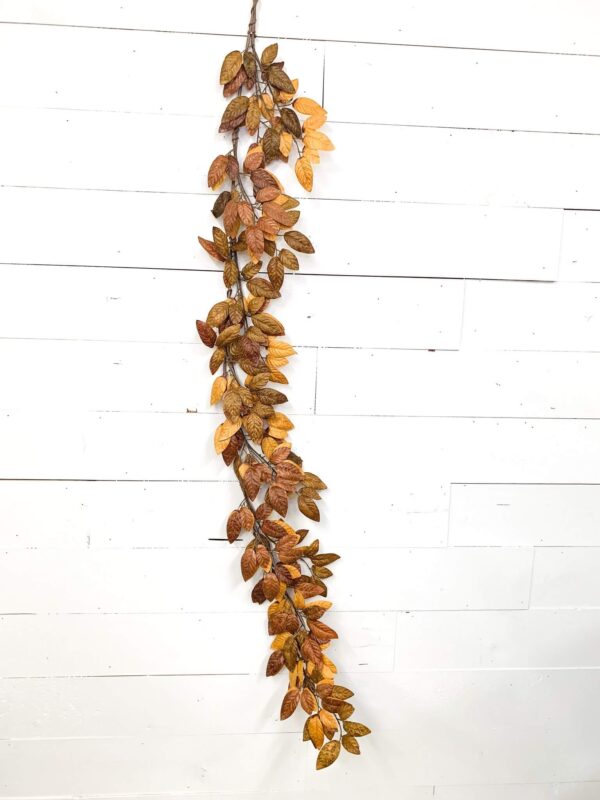 Do you see those gold­en tones?!! Y'all, this gar­land is a stun­ner! It looks like you could have pulled off a branch straight from a tree with the real­is­tic vein­ing on the leaves. Made with a wrapped wire stem, and fab­ric, the autum­nal mix of gold­en orange, red­dish-brown, and olive green gives it so much depth and flex­i­bil­i­ty. Hang it ver­ti­cal­ly from a door, or drape it across a man­tle. I'm cer­tain any­thing you do with the First Fall Gar­land will be beautiful!
Red Pen­ny Leaf Spray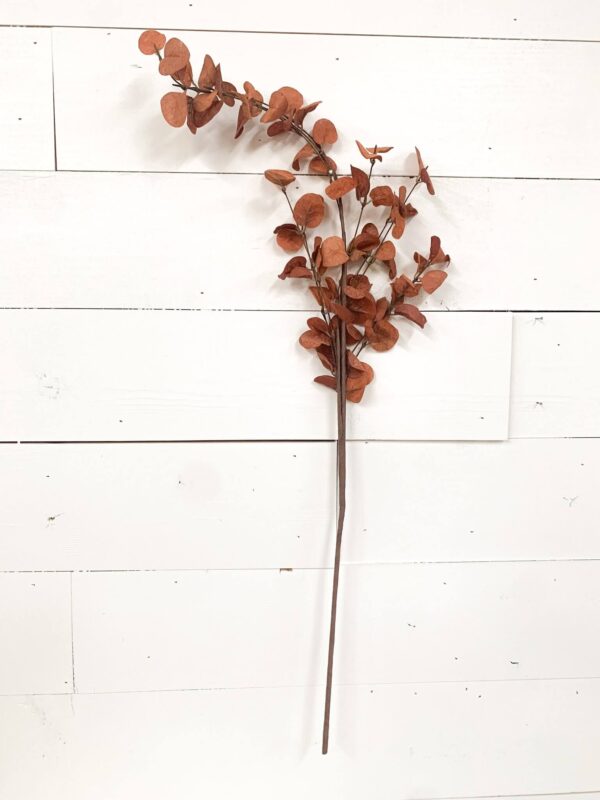 Do you switch out your flo­ral stems for the sea­son? I know that when Christ­mas comes around I'm swap­ping out euca­lyp­tus stems for cedar and pine, and that is why we're car­ry­ing this beau­ti­ful Red Pen­ny Leaf Spray as part of the Fall Col­lec­tion! I was instant­ly drawn to the warm red leaves that jumped out against the mut­ed green stem. I love that this col­or com­bi­na­tion can be used as a tran­si­tion piece even into Christ­mas! Mea­sur­ing 34 inch­es tall, make a Fall tran­si­tion state­ment with this spray in a beau­ti­ful vase or old met­al milk container.
Cin­na­mon Spice White Rose Wreath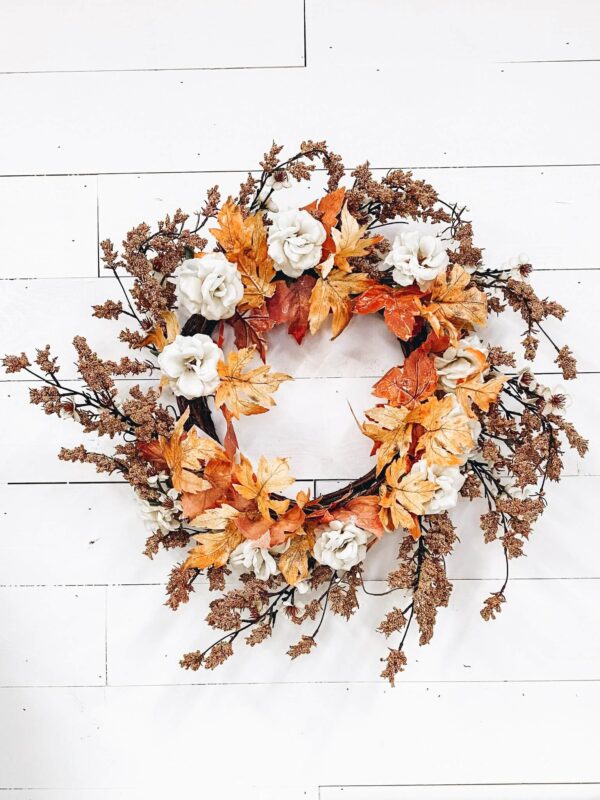 I've saved the BEST for last. ? With a name like Cin­na­mon Spice White Rose, this wreath is a wel­come state­ment to a gor­geous Fall tran­si­tion! It's 21.5 inch­es of pure fall delight, and it almost makes me want to break out the pump­kin can­dles! I love the white ros­es that add a del­i­cate bal­ance to the the autumn leaves and spray. It's stur­dy, assem­bled on a grape vine wreath, and can be styled in many ways. Hang it on your front door or make a state­ment in any room inside. If you dec­o­rate with a neu­tral decor, this wreath is a must have!
Ready to tran­si­tion to Fall? Shop the whole col­lec­tion now avail­able at The Home­Goods Mar­ket!