These Cozy New Home Arrivals are the per­fect way to add com­fort and style to your home!
When I made this week's DIY project using barn wood, some fab­ric, and a cot­ton stem, I could­n't get over how cozy it was! I am always look­ing for ways to make my home warm and com­fort­able; I want my fam­i­ly to always feel like they have a place they can feel safe and loved, and that's one of the rea­son's why I car­ry the prod­ucts I do at R+R Home!

Each item that I select for the shoppe is hand picked as if I would use it in my own home. I love being able to share decor finds with you. See­ing how y'all style pieces in your spaces is so much fun! I want to inspire y'all to turn your hous­es (or rentals) into a cozy home.
As we con­tin­ue to get ready for brick and mor­tar store to open, we have been adding new arrivals like crazy to the shoppe.
Here are six of my favorite Cozy New Home Arrivals in the shoppe!
1. Gray Tas­sel Throw Pillow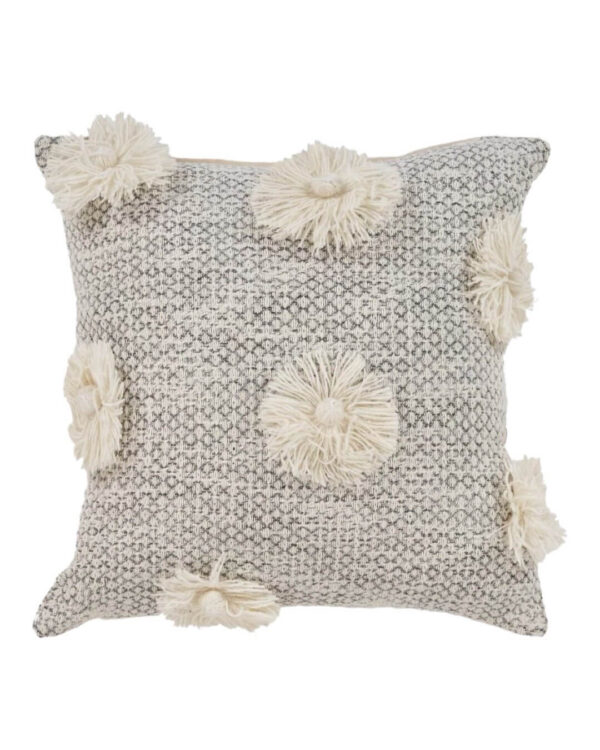 I am proud to announce that we have stocked our shelves with mul­ti­ple styles of throw pil­lows! One of my favorites is this Gray Tas­sel Throw Pil­low. Fea­tur­ing soft poms, you'll want to cozy up to these pil­lows on sight! I love that this is 100% hand woven, and gives off a soft and light feel. This is a great way to add some tex­ture to your couch, bed, or com­fy chair. Be sure to vis­it the shoppe and see what oth­er styles are available.
2. Glass Plant Mister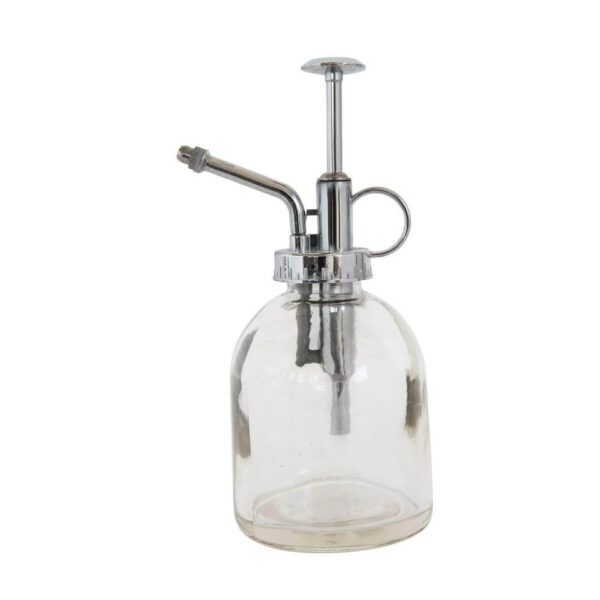 Now, I know what you might be think­ing, what is a Glass Plant Mis­ter doing on a cozy list?! Well, house plants are fick­le, and some only need the slight­est mist of water to stay alive. I am a firm believ­er that to help make a home cozy, you should have some natural/organic decor, whether real or faux, and a beau­ti­ful fern or even an orchid, helps soft­en a home. I love that this mis­ter is prac­ti­cal, but also would look adorable styled on a tiered tray or shelf. You can't go wrong with the vin­tage feel this gives off!
3. On The Farm Sign
If you're new to these parts, you might not know I am from Ken­tucky, and that we live on a farm that we have been ren­o­vat­ing and restor­ing into our own lit­tle home­stead. That's why when I saw this On The Farm Sign, and all the fun coun­try say­ings, I want­ed to offer it in the shoppe. I mean, "Mind your own bis­cuits?!!" Gold! I thought this would be a cute addi­tion to a stair­case or on a wall close to the kitchen so the kids can see it each morn­ing and be remind­ed that they live in a home where we not only count our bless­ings, but we love until the cows come home. 😉 This is the per­fect addi­tion to your farm­house, or faux farm­house. This sign is a great size at 26"x15". We have more signs avail­able, includ­ing the fes­tive 12 Days of Christ­mas sign.
4. Gray Wood Bead Garland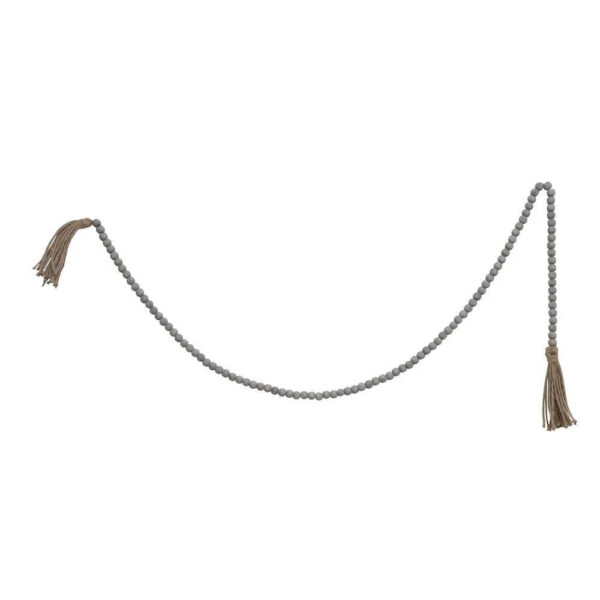 This isn't the first wood bead gar­land we have stocked in the shoppe, but this Gray Wood Bead Gar­land might be the longest at 72″! It's taller than me! I love the weath­ered antique light gray wash and the beau­ti­ful jute tas­sels ready to be draped over­books or laid in woven bas­kets. Per­haps it's the round­ed edges, but there is some­thing wel­com­ing and warm about using beads to add a fin­ish­ing touch in a space. We also have a large bead­ed tas­sel avail­able at R+R Home.
5. Rus­tic Wood­en Riser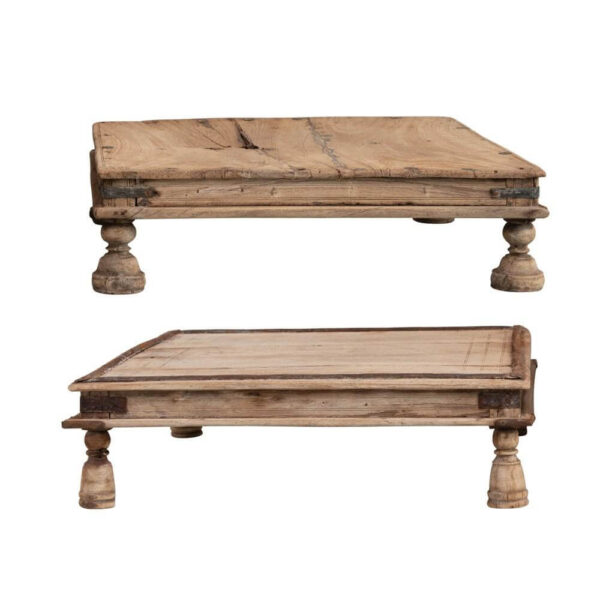 Now, if this Rus­tic Wood­en Ris­er does­n't scream cozy, then I don't know what does! I love that each piece is hand­craft­ed and that means no two ris­er is going to look the same. I adore the hand carved feet, and hon­est­ly, it kind of reminds me of a char­ac­ter out of Beau­ty and the Beast. I might be look­ing at it wait­ing for it to talk to me and join me in song and dance! I intend to use this guy on my din­ning room table dur­ing the hol­i­days so I can ele­vate food or decor, but it's so ver­sa­tile, your imag­i­na­tion might be the only lim­it. Want ideas on how to incor­po­rate or even make your own ris­ers? Check out this DIY I did on mak­ing a ris­er from an old drawer.
6. Tuft­ed Dia­mond Throw Blanket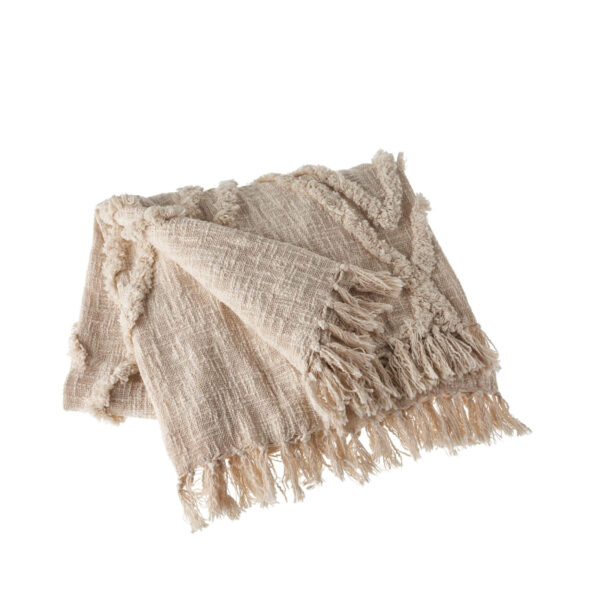 Now, is it pos­si­ble for a space to be com­fort­able with­out a throw blan­ket? The answer is no––and that's where this Tuft­ed Dia­mond Throw Blan­ket comes in! In addi­tion to the throw pil­lows and oth­er items we've added to the shoppe, I have added mul­ti­ple throw blan­ket designs, and this tuft­ed dia­mond throw hap­pens to be my favorite! The weav­ing, the loose tas­sels, and the soft fab­ric all work togeth­er to bring you on cozy throw blan­ket! You might end up tempt­ed to stay in bed or curled up on the couch with this beau­ty while a dough bowl can­dle is burn­ing. 😉 How would you style it? Let me know in the comments!
Remem­ber, this is just a small sam­pling of all the cozy new home arrivals that are avail­able in the shoppe! We have more pil­lows, throws, faux plants, can­dles, antiques, and even a new line of appar­el! Shop Roost+Restore Home today to start mak­ing your house your cozy home.