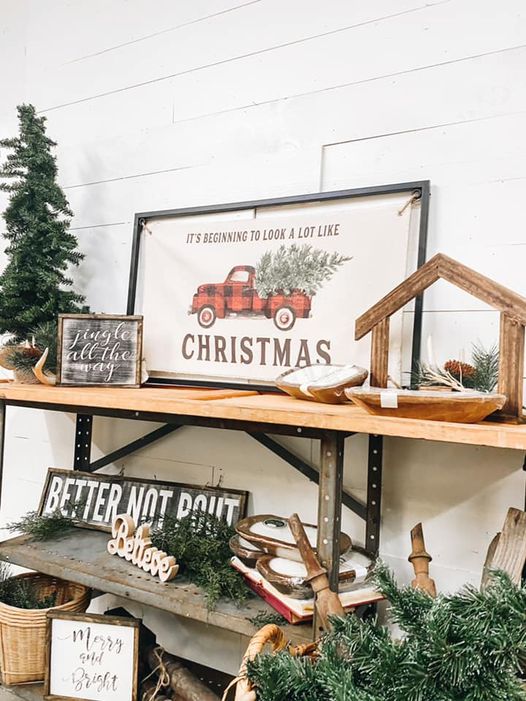 We cel­e­brat­ed Christ­mas in July last year as a month long cel­e­bra­tion to launch our Wood Project Box. We knew we need­ed to go big, and what's big­ger than Christ­mas?!! And, it was a no brain­er because I LOVE Christ­mas y'all!
See, I love Christ­mas­time, and not just because you get presents, dec­o­rate, and every­thing smells won­der­ful, but because it's cel­e­brat­ing the birth of our Lord. I get to make my home a spe­cial place for my fam­i­ly to cel­e­brate and count our bless­ings. I'm also par­tial to watch­ing my kid­dos sing "Away in the Manger" at our church pageant. ?
And since we had so much fun last year, we decid­ed to bring it back this year––for one week only––and give y'all a lim­it­ed sneak peek into our Christ­mas Col­lec­tion! I shared some new tuto­ri­als, like my Scan­di­na­vian Inspired Dol­lar Tree Bell Makeover and some old, like my Rus­tic Scrap Wood Project Ideas. We even enjoyed a few amaz­ing give­aways for any­one who bought a Hol­i­day Scent­ed Dough Bowl Can­dle.
Since there was so much we cov­ered this week, I've put togeth­er a roundup of all the prod­ucts we fea­tured below for easy reference.
Christ­mas Truck Fab­ric Sign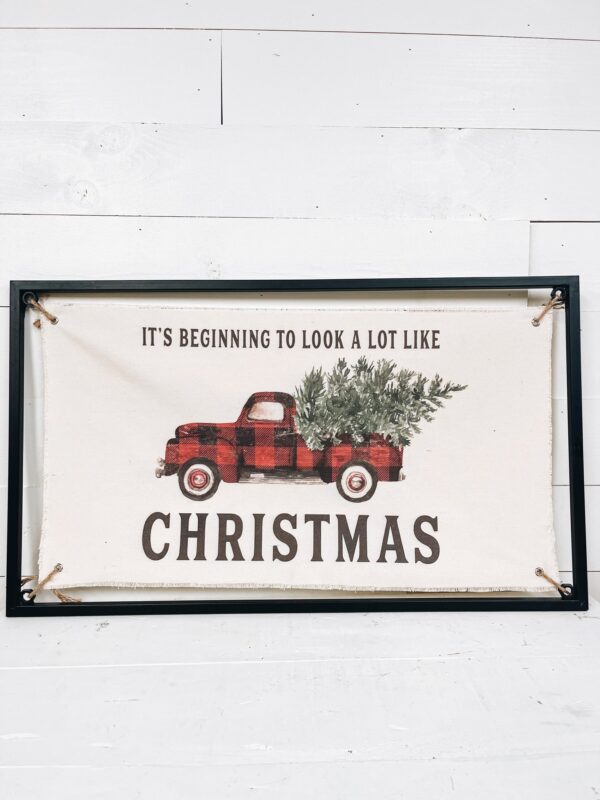 Who doesn't love an old red truck with a Christ­mas tree in the back? When I saw this sign, I was instant­ly drawn to the truck because of the buf­fa­lo check plaid! I knew that the sign would be a good fit over a fire­place or even out­side as part of a front porch motif. This sign is BIG y'all! Mea­sur­ing 34 inch­es wide, 20 inch­es tall, this piece fea­tures a met­al frame to stretch the can­vas. It's rus­tic, but also a per­fect addi­tion for any­one who likes mod­ern farm­house decor.
Hol­i­day Scent­ed Dough Bowl Candles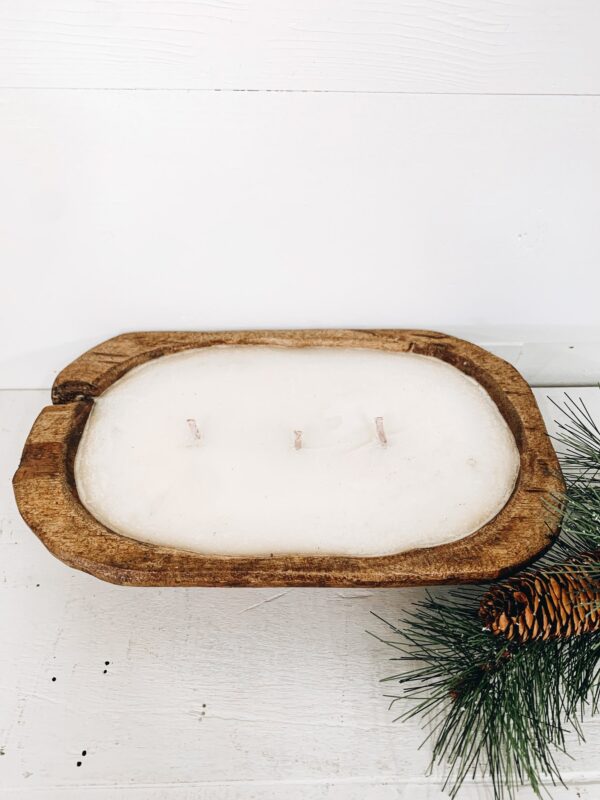 I joke with the R+R girls that we might become a can­dle shop with how much y'all LOVE dough­bowl can­dles! But hon­est­ly, I don't blame you because they are the best smelling can­dles around! Y'all know I LOVE wood decor and the dough bowl can­dle is a per­fect addi­tion to any table. We stocked three unique scents––Fraisier Fire, Spiced Cran­ber­ry Apple, and Hol­i­day Cheer––for our Christ­mas in July give­away, where if you bought a can­dle you were entered in a draw­ing to win some fun prizes. If you love these, keep your eyes peeled because an elf told me we will have new scents and designs arriv­ing soon.
Farm­house Red Stripe Pillow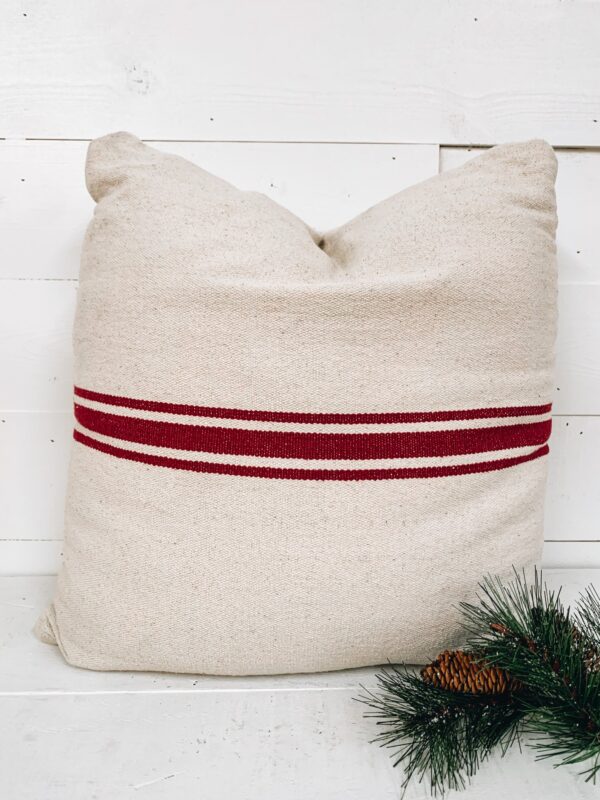 Are you like me and love to switch out your pil­lows for the sea­sons? I have been eye­ing a neu­tral pil­low that I can use for more than one sea­son and when I saw the mut­ed red stripe on the beau­ti­ful grain sack, it just POPPED! I knew I had found it! Not only will this pil­low look great on a couch or bed, but you can use it for Valentine's and the Fourth of July too. It's a beau­ti­ful addi­tion for any­one who loves french farm­house decor.
"Mer­ry & Bright" and "Jin­gle All The Way" Signs
These fes­tive sit­ters are USA made, and fea­ture a dark wal­nut hand­made frame. I added both to our shoppe because I loved how dis­tressed each piece was ver­sus look­ing like they were mass pro­duced. Grab a vase with flo­ral stems, a dough bowl can­dle, and set that Mer­ry & Bright sign up and you have fast Christ­mas decor. These make quick and easy gifts for an office par­ty or teacher gift.
DIY Craft Kits
Since we launched Christ­mas in July last year with our Wood Project Box, I thought we would return to our roots and bring you not one, but TWO DIY wood craft kits to get you ready for Christ­mas! Both of the DIY Kits fea­tured our theme for the week, Oh Holy Night, to cel­e­brate the Lord's birth and the rea­son for the sea­son! Each kit fea­tures reclaimed wood ready for you to assem­ble and add your per­son­al touch. The Reclaimed Sta­ble and Manger fea­tures six pieces of reclaimed pal­let wood that assem­ble into a gor­geous min­i­mal sta­ble and manger, and the O Holy Night Kit fea­tures two wood blocks for you to personalize.
These DIY Craft Kits were only avail­able dur­ing the week of Christ­mas in July, but if you're want­i­ng to get your hands dirty with some fes­tive DIY, our Wood Project Box is a month­ly sub­scrip­tion with curat­ed wood decor projects sent to your house each month.
If you like some­thing from our Christ­mas in July Col­lec­tion sneak peek, leave a com­ment to let us know what items you're hop­ing will be avail­able when we launch our full Christ­mas Collection!