Dis­cov­er beau­ti­ful farm­house stoneware from The Home­Goods Mar­ket that's not only pret­ty, it's functional!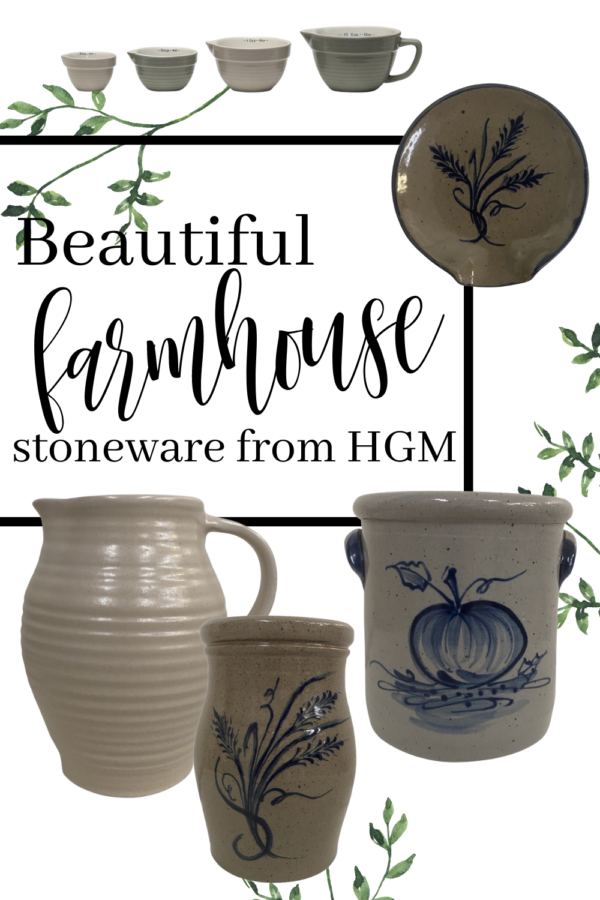 Did you know that every Mon­day morn­ing on Face­book I go Live for some­thing I like to call Makeover Mon­day? It's where I take an item I found at a thrift store and repur­pose it live. I love doing this because not only do I get to craft and inter­act with those in the com­ments, but I raf­fle the fin­ished item off at the end to some­one who's been watching.
I think it's a win-win for all, and trust me when I say you'll want to bring the pop­corn!

This week, I did­n't have time to run to the thrift store and my assis­tant Ken­zie came up with a great idea––she would go grab three items, put them in a box, and I would have to makeover one of those items, sight unseen.
Yeah, I don't know what I was think­ing but I went with it, and the first item that I pulled out was a stun­ning Iron­stone pitcher.
And you don't make over stun­ning Iron­stone any­thing, right?
Right.
So I sat that beau­ty aside, dug out two oth­er items, and well, if you want to see how it went, catch the replay here.
But, that Iron­stone pitch­er got me think­ing that I want­ed to share some of the beau­ti­ful farm­house stoneware items that I have in stock at The Home­Goods Mar­ket right now!
---
Don't know what The Home­Goods Mar­ket is? It's my small home decor bou­tique that spe­cial­izes in small batch, hand­made items picked by me, Kaycee, and the Roost+Restore team. I wrote a whole blog post you can read here.
---
5 Beautiful Farmhouse Stoneware Pieces From The HomeGoods Market:
1. Nest­ing Mea­sur­ing Cup Set
Is this not the cutest nest­ing Stoneware Mea­sur­ing Cup Set?!! I am already pic­tur­ing myself cook­ing like a fan­cy chef and hav­ing my items pre-mea­sured and ready to go (instead of scram­bling for the vanil­la extract)! I love the shades of grey, per­fect for neu­tral decor, the fact they nest, and that they have a pour­ing spout for when you have liq­uids. Beauty+function! These would look so cute on a tiered tray, or even in use for a hot cocoa bar. This set comes with four cups mea­sur­ing : 1–1/2, 1, 1/2, 1/4.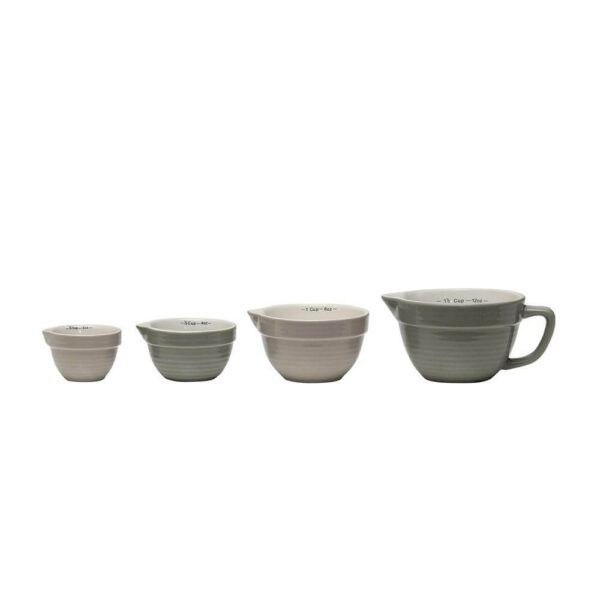 2. Pump­kin Crock
You can't go wrong with this beau­ti­ful farm­house stoneware Pump­kin Crock! Seri­ous­ly, we stocked this just in time for your Fall decor refresh­ing or, spin it around to hide the pump­kin (but why would you) to use year round. Fea­tur­ing a clas­sic blue and gray salt glaze, it com­ple­ments oth­er pot­tery styles or does just fine on it's own. This crock is a half gal­lon capac­i­ty, and is ready to adorn your kitchen counter or man­tle. I love that it's a mod­ern piece with a vin­tage feel. It's also Made in the U.S.A.! What will you put in it?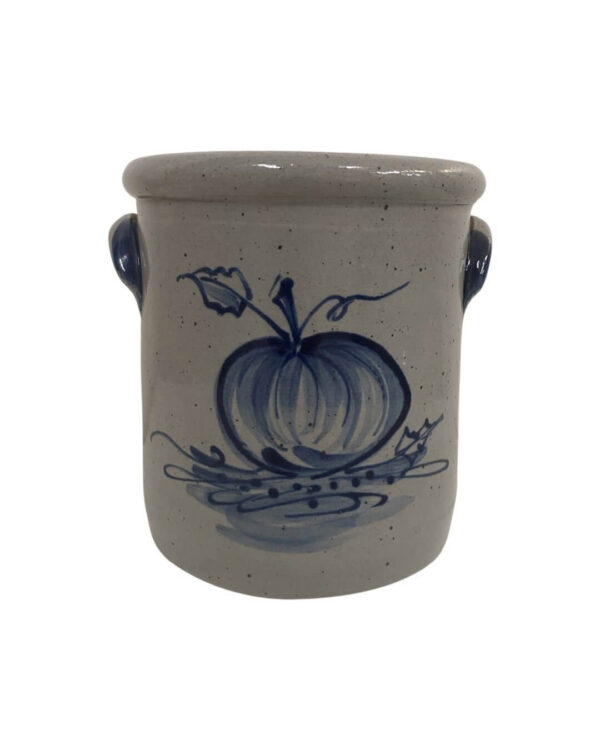 3. Wheat Uten­sil Jar
This Wheat Uten­sil Jar is gor­geous in it's warm liq­uid gold glaze, and look at that those curves! It's the per­fect sea­son­al update for the Fall! I love the shape of the jar, and can pic­ture a well loved wood pas­ta spoon or spat­u­la stick­ing out. You can set it next to your stove, or add dried flo­rals to it, the choice is yours. It's dish­wash­er safe, so don't wor­ry about get­ting this jar dirty. This is also Made in the U.S.A. in Cam­bridge, Wis­con­sin. Grab one before it's too late!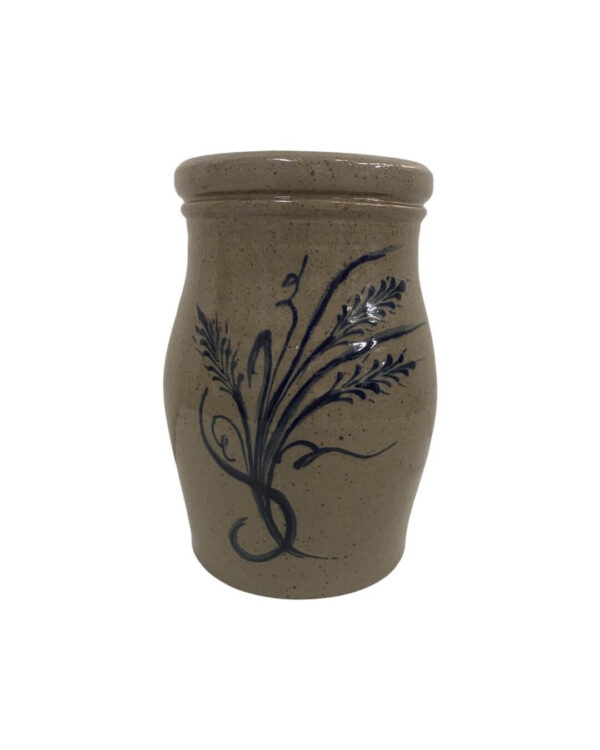 4. Pump­kin or Wheat Spoon Rests
These Pump­kin and Wheat Spoon Rests are the per­fect com­pli­ment to the Pump­kin Crock and Wheat Uten­sil Jar. Placed side by side, you can see the dif­fer­ence in each glaze, the pump­kin fea­tur­ing the clas­sic blue sea salt while the wheat fea­tures the warm liq­uid gold glaze. I love these because I can nev­er find a spot for my spoon to go when cook­ing on the stove. The qual­i­ty and details on each piece stand out. U.S.A Made, dish­wash­er safe, and ready to fan­cy up your farm­house kitchen decor.
5. Farm­house Ridges Pitcher
This Farm­house Ridges Pitch­er isn't play­ing around y'all! It is 100% beau­ti­ful farm­house stoneware that will bright­en up any space! We don't car­ry pitcher's often in the shop, but when I saw all the ridges on this one, I knew it was a must! I love hav­ing pitch­ers around because they are not only func­tion­al (yes, this is dish­wash­er and microwave safe), but they make the cutest ves­sels to put dried flo­rals or fresh cut flow­ers in. I love styling them on a cof­fee table with some books and wood beads. You can't go wrong, espe­cial­ly when it's U.S.A. Made!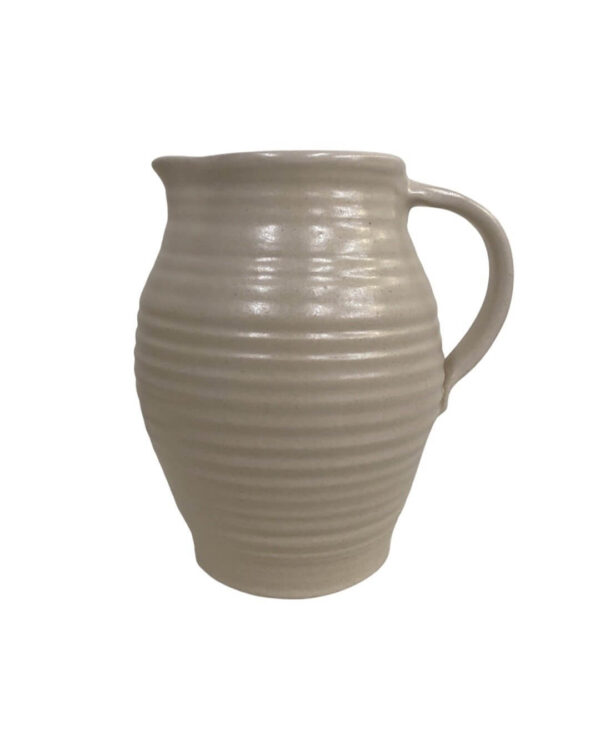 That's all for this week, but keep an eye out in the shoppe for more beau­ti­ful farm­house stoneware and decor! We are always refresh­ing what's in stock, and, if you're look­ing for DIY decor ideas, my DIY Faux Cement Planter tuto­r­i­al is an eco­nom­i­cal way for you to repur­pose and restyle tired con­tain­ers and turn them into some­thing beautiful!