This lit­tle wood block project is one that is sure to make you smile. Not only is this wood block pic­ture hold­er absolute­ly ah-dorable, it is so so stinkin easy to make!
Scrap wood can be so handy to have around if you have home ren­o­va­tions or in our case, projects around the home­stead. It's easy to just go search­ing for scraps until I find that per­fect lit­tle gem wait­ing for a makeover.
What if I don't have a wood block?
I'm glad you asked! We love sourc­ing from our scrap wood pile so much around here that we decid­ed to bring the scrap pile to you. We cre­at­ed a pri­vate mem­ber­ship THE WOODSHOP to help crafters and DIY­ers get the wood they need right at their fin­ger­tips. WE can be your wood project resource!

Once you have your wood source secured. It's time to get those lit­tle fin­gers busy! Here is what you will need…
Supplies
4x4 wood block, cut to desired length. Mine is approx 5″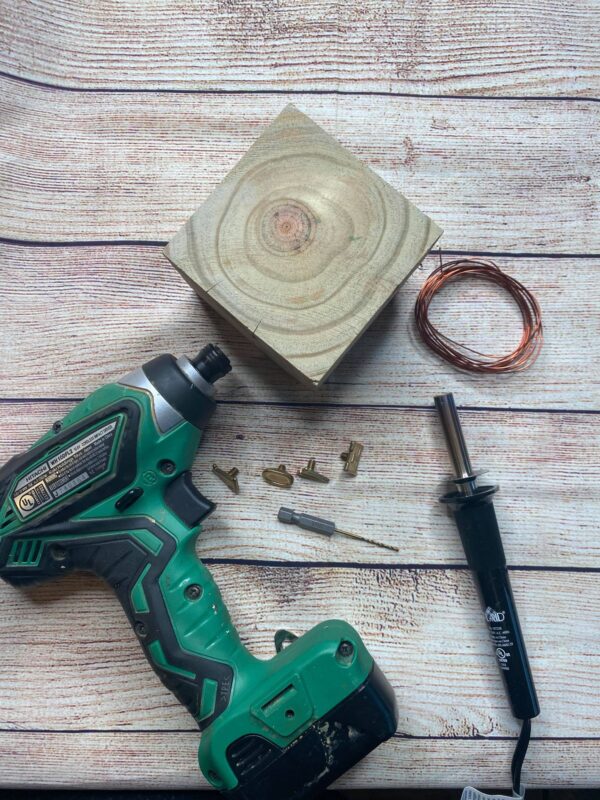 How to make a wood block picture holder
WATCH THE SPED UP VIDEO TUTORIAL HERE
Time need­ed: 10 min­utes.
Heat Stamp

Using your heat pen and hot stamps burn what­ev­er word you chose to you wood block. I chose "LOVE" because it goes for year-round dec­o­rat­ing. I rec­om­mend turn­ing on your pen to pre­heat while you gath­er your oth­er sup­plies. It will be EXTREMELY HOT with­in min­utes. Sim­ply screw in the appro­pri­ate let­ters and press them into the wood. You can watch this sped up process.


Paint + Dis­tress

Once your let­ters are burned, it's time to paint and dis­tress with sand­pa­per. I used a sim­ple dry brush­ing light­ly over the sur­face of the wood to allow some of the orig­i­nal grains to shine through. Once dry, sand your edges for even more character.

Drill

Grab your drill and a 1/16 twist bit to place a hole in the top cen­ter of your wood block. I am using a small jew­el­ry wire and even this time hole was a bit big. Use an appro­pri­ate bit size for the wire you have chosen.

Super Glue

Place a tiny dot of super glue in the hole and spread along the end of your wire before inserting.


Embell­ish